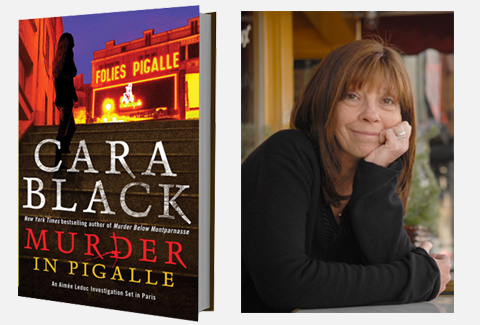 What differentiates Pigalle from the other neighborhoods in Paris?
Pigalle is Paris's red-light district; its theaters and clubs comprise the city's "world of the night." As rumor goes, American GIs couldn't pronounce the quartier's name, so they called it "Pig Alley," or perhaps this was more a result of the postwar edginess of the 1950s, when the clubs were run by Corsicans, gangsters from Marseilles and the women of that world of the night.
A friend of mine who raised her children in Pigalle—and still lives there—once told me that it has two very different faces: one during the day, and another at night. There are many families who live there; they shop, send their children to school, and frequent Pigalle's squares and cafés. But it also remains a major theater and entertainment district, meaning that makeup artists, set and costume designers, crew members, and actors and actresses move to the area to be close to work. If you ever visit the Moulin Rouge or the Folies Bergère, their marquees are still lit up, recalling their glory days at the turn of the century.
Pigalle has a long history as a district for resident artists—Degas, Toulouse-Lautrec—and was originally named after the French sculptor Jean-Baptiste Pigalle. It has also been home to several classical musicians, including Chopin, Lizst and composers like Berlioz (whose former apartment, with its Belle Époque interior, is now a very trendy, exclusive club). Parts of Pigalle have become quite bourgeois, others are rapidly changing with gentrification, and yet others remain beyond the limits of the law, filled with massage parlors and hostess clubs.
How has Paris changed in how it is depicted from your first novel, Murder in the Marais, to this one?
Good question! Murder in the Marais takes place in November 1993, and now (14 books later!) we're in June 1998. So about five years have passed in Aimée Leduc's fictional life and Paris's, too. Aimée still pays in Francs (today, it would be Euros), can smoke in her local café (there's no way this would be possible today) and has a cell phone (quite common now) but this era is pre-Google, Facebook, Twitter and texting. Any GPS devices were strictly in the domain of the military. I never thought I'd end up writing an entire series and have Aimée moving around the city—albeit very slowly—but it's been freeing not to have her deal with her problems via text message and receive immediate answers. She's got to work a lot harder, I suppose one could say, even though we all got on just fine before the tech explosion of the new millennium.
Did writing a thriller with a protagonist who was pregnant present any particular challenges?
This aspect did present several challenges. My primary concern was that Aimée's role as a mother-to-be was believable, and that her actions were plausible for a woman nearly five months pregnant. She needed a compelling reason to be drawn into this investigation, and she finds one that turns out to be highly personal. My second greatest challenge was finding her a maternity couture wardrobe.
This is a suspenseful story, with Aimée racing against the clock to save a girl who's been abducted by a rapist/murderer. What must an author consider when they introduce a race-against-time element?
Always keep the clock ticking. Didn't Hitchcock say something along those lines? I believe he was referring to the ticking time bomb. I think it's good advice, and the authors who do it well never let their character or us (the readers) come up for air. They create characters we care about, characters we root for, and that's so important. We want these characters to succeed, overcoming the obstacles hurled in their way, so we keep turning the pages.
For you as a writer, what makes Aimée Leduc a character worth coming back to?
I'd love to have her apartment on the Île Saint-Louis. When I write, I get to go there and "live" with Aimée, take her bichon frise "MeelsDaveez" for a walk on the quai along the Seine, stop at the local cheese shop where "we" know the owner well. For me, writing Aimée is visiting Paris even though I'm in sweatpants, sitting at my computer in San Francisco. Each time I come back to Aimée, I get to experience a different slice of Paris, speaking with the locals and understanding the way people think and act in the City of Light. I feel so lucky, and it sure saves on airfare.
* * *
Cara Black's next Aimée Leduc mystery, Murder in Pigalle, is now available. Mark Pryor, author of the Hugo Marston series, will be interviewing Cara at BookPeople on Sunday, March 10 at 1:00 p.m.