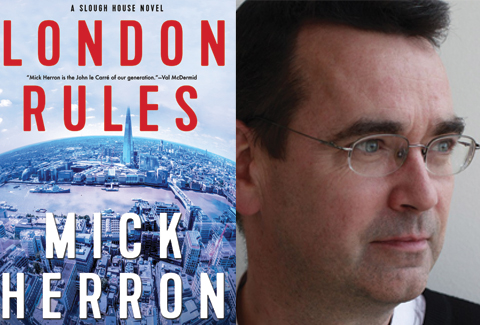 Mick Herron is the CWA Gold Dagger winning author of the Slough House series, which follows a group of defunct MI5 spies, led by the irascible Jackson Lamb, as they do whatever it takes to get back in the game.
Herron has been called the John le Carré of our generation, and the Slough House series described as the best modern British spy series.
We asked Herron to fill readers in on what to expect from his next novel, London Rules, which publishes this month. Enjoy.
1. What's your new book about?
London Rules is the latest in the Slough House series, about a bunch of messed-up spies operating from a run-down department in a grubby area of London. Their official remit amounts to little more than mind-numbing busywork, but they usually find themselves embroiled in larger events. In this particular story, a terrorist group is running rampage throughout Britain, and the slow horses unexpectedly become the first line of defence.
2. What attracted you to the idea/concept of the book?
I've become attached to the characters I'm writing about, and keen to find out what happens to them next. Plus, I wrote the novel at a time of upheaval in the United Kingdom, with the unexpected result of an unnecessary referendum having just been delivered. Given the farcical nature of the political backdrop, writing a novel with a chaotic undercurrent seemed both irresistible and appropriate.
3. What kind of research was required?
Very little. I don't write novels that deliver much information; character and dialogue are my backbeat. And these, I just make up.
4. Which books or authors influenced you while writing this book?
Conscious influence is something I resist. If I feel another author's cadences creeping into my prose, I delete them. Unconscious influence is another thing entirely, but I leave that to my readers to determine.
5. Did anything not make it into the book that readers might find surprising or interesting?
My original draft was much longer than the final version, but didn't contain any discarded sub-plots, or any surprising/interesting elements. It did have a lot more adverbs, though.
6. When readers finish the book, what do you hope they will think and feel?
Unhappy. But only that it's over.
***
"Sharper, funnier and more distorted than ever." —Literary Review