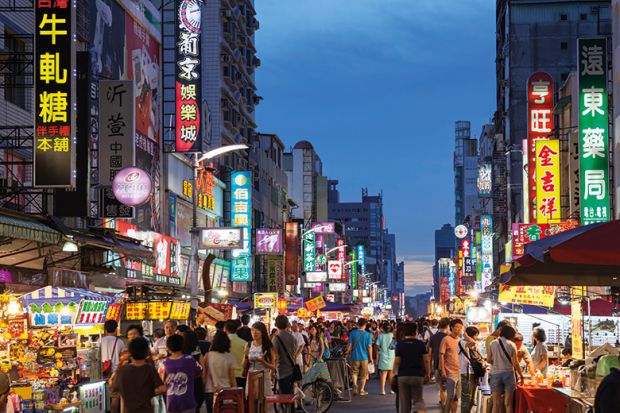 A new Ed Lin book is reason to celebrate.
Topical, funny, thrilling, and simply a blast to read, Lin's novels are set in Taiwan and highlight a country that's teeming with a rich, complex culture and colorful tapestry of characters – some of whom are more law abiding than others.
99 Ways to Die, which comes out in early October, is "a stylish, smart thriller for the mind, heart, and gut."
Below, the author explains what the book is about, who influenced its writing, and shares a video trailer he made with his son.
Enjoy!
What's your new book about?
The new book's about a very powerful man being kidnapped in Taipei around the Double Nine Festival, a time when a number of things happen, including the celebration of senior citizens. The abducted man happens to be the father of a friend of the narrator of the books, Chen Jing-nan, a guy who runs a night-market stall.
What attracted you to the idea/concept of the book?
I was thinking that the various holidays in Taiwan could be a jumping-off point for each book in the series. Double Nine's not a big one, but it lent itself well to the title, 99 Ways to Die. I also wanted to talk about immigration, a big issue in Taiwan and in the U.S., as well.
What kind of research was required?
It required poking around with my usual sources, some of whom didn't even celebrate the holiday. I had to visit key spots in the city to make sure that key shadows fell where they had to. I shot a few videos for confirmation that ended up in the book's trailer:
Which books or authors influenced you while writing this book?
Dashiell Hammett's an influence, as always, along with Chester Himes and Norbert Davis.
Did anything not make it into the book that readers might find surprising or interesting?
I think I went overboard a few times with one of the stronger personalities in the book (tough competition, at that), so I had to rewrite and rethink a bit.
When readers finish the book, what do you hope they will think and feel?
I hope they feel a little freaked out and that some of the issues I've written about hit closer to home than expected.
***
"A stylish, smart thriller for the mind, heart, and gut. Sex, music, history, politics, food, humor, and just a touch of violence and death—you get it all. And when you're done, you'll beg for more." –Viet Thanh Nguyen, Pulitzer-Prize Winning Author of The Sympathizer
Buy from IndieBound | Buy from Barnes & Noble | Buy from Amazon | Buy from Soho Press