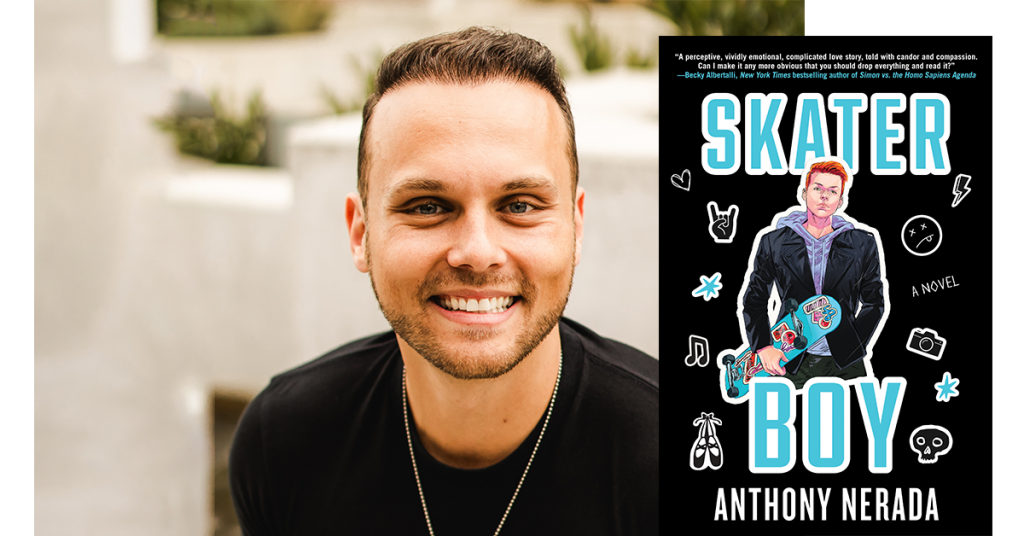 SKATER BOY by Anthony Nerada will be available February 2024 wherever books are sold!
In this YA contemporary debut about pop punk, romance, and destroying the labels that confine you, a queer teen risks everything to write his own story.
~~~
—ANTHONY NERADA became a writer after his fifth-grade teacher told him it was his destiny. Since then, he's read too many books (if there is such a thing) and explored worlds far outside the reaches of his own. Anthony holds a BA in psychology and two diplomas (one in public relations, the other in publishing), which allow him to write the day away while simultaneously psychoanalyzing his friends. Anthony lives in Vancouver, British Columbia, on the traditional, ancestral, and unceded lands of the Coast Salish Peoples. Skater Boy is his debut novel.
UPCOMING EVENTS
Wednesday, February 7
7:00 p.m. PT
At Elliott Bay Book Co. (Seattle, WA)
In conversation with James Sutter, author of Darkhearts
In-Person Event
Details to come
Thursday, February 8
7:00 p.m. PT
At Powell's Books at Cedar Hills Crossing (Beaverton, OR)
In conversation with Rosiee Thor, author of Tarnished are the stars and Life is Strange: Steph's Story
In-Person Event
Details to come
Friday, February 9
7:00 p.m. PT
At Books Inc. in the Marina (San Francisco, CA)
In conversation with Jandy Nelson, author of I'll Give You the Sun
In-Person Event
Details to come