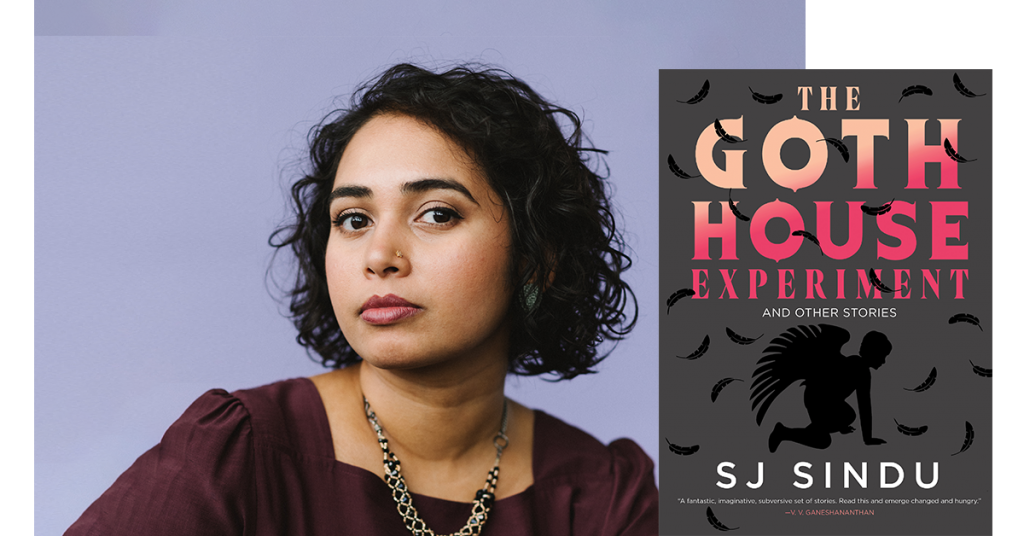 An uncanny and electric story collection from SJ Sindu, Lambda Literary finalist and Publishing Triangle Edmund White Debut Fiction Award–winning author of Blue-Skinned Gods, The Goth House Experiment is
a startling and very funny collection by one of America's most exciting young voices.
~~~
—SJ SINDU is a Tamil diaspora writer whose works include the novels Marriage of a Thousand Lies (winner of the Publishing Triangle Edmund White Award for Debut Fiction and an ALA Stonewall Honor Book) and Blue-Skinned Gods (finalist for a Lambda Literary Award), as well as the graphic novel Shakti and the chapbooks I Once Met You But You Were Dead and Dominant Genes. Sindu holds a PhD in English and Creative Writing from Florida State University and is an Assistant Professor of Creative Writing at Virginia Commonwealth University.
UPCOMING EVENTS
Tuesday, October 17
6:00 p.m. ET
At Fountain Bookstore (Richmond, VA)
In conversation with Geoff Bouvier
In-Person Book Launch Event
Friday, October 20
7:00 p.m. ET
For At Home with Literati
In conversation with Annie Bacon
Virtual Event
Saturday, October 21
5:00 p.m. ET
At Politics and Prose (Washington, D.C.)
In conversation with Gabrielle Lucille Fuentes
In-Person Event
Monday, October 23
7:00 p.m. ET
At Books Are Magic Montague (Brooklyn, NY)
In conversation with Tony Amato
In-Person Event
Thursday, October 26
5:00 p.m. ET
At Brown Bookstore (Providence, RI)
In conversation with Karan Mahajan
In-Person Event
Friday, October 27
7:00 p.m. ET
At Harvard Bookstore (Cambridge, MA)
In-Person Event
Saturday, October 28
3:00 p.m. ET
At Jones Library (Amherst, MA)
In-Person Event
Friday, November 3
At University of Nebraska–Lincoln
In-Person Events
Details to come
Friday, November 10
6:30 p.m. ET
At Letters Bookshop (Durham, NC)
In conversation with Karen Tucker
In-Person Event
Saturday, November 18
At the CSI Annex for Tam Fam Lit Jam (Toronto, Canada)
In-Person Event
Details to come