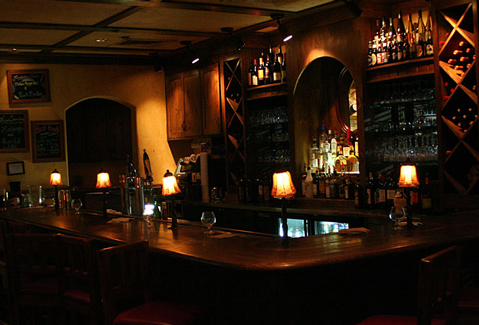 I dropped out of college when I was nineteen. Around that time, I'd also been working as a college intern at a chemical company in Midland, MI, near where I grew up, and so I lost that job too. Because I wasn't making a lot of good decisions then, I spent a month out of work, paying my rent with a credit card, before finally desperately looking for a job. Any job.
Whatever job I took, I told myself, it'd be temporary. Just until I figured out what I wanted to do with my life.
This was 1999, so Monster.com was handing out all the entry level work anyone could want. I landed a hosting job at a Mexican chain restaurant, a chain which today exists only in China, Belgium, Luxembourg, United Arab Emirates, Kuwait and Indonesia, after being responsible for the largest and deadliest outbreak of Hepatitis A in American history. In the nearly five years between my hiring and our ignoble ending, I spent twenty-five hours a week selling fake "krab" enchiladas and jumbo wildberry margaritas and eventually rising through the ranks to bartender—and I also started writing. Slowly. Haltingly.
The Mexican restaurant went out of business suddenly, over a weekend I had off to be best man in a friend's wedding. I left work on Thursday employed and came back to a shut building. This was late October, so with no work to go to I started a Nanowrimo novel on the first of November. By the time I got another job at the end of the month, pushing mid-grade steaks and "perfect" mudslides, I was deep in a Chuck Palahniuk ripoff about expensive suits and sexual healing and urban legends about asbestos in tampons, which I never showed to anyone but where I learned it was possible to pile up 60,000 words if I just sat down and hit the keys long enough.
I got married. I went back to college, an hour away so my terrible grades wouldn't infect my GPA. I started building a better writing habit. I switched restaurants, served barbecued ribs and barbecue-sauce bloody marys. I made head bartender, then assistant manager during my last semester of college, when I worked fifty hours a week five days a week and commuted to school the other two days. I published a few stories. After I graduated my wife and I both applied to grad schools together. She got into seven out of the eight schools we applied to, for her PhD in Medicinal Chemistry. I got into one MFA program, off the waitlist. It was my dream program but the worst one on her list.
We didn't go. We moved to Ann Arbor so she could go to the University of Michigan while I took a job managing a Mongolian barbecue. In January 2008, I joined a writing group there, with each of us planning to write a novel. To get this done I set a goal of writing two hours a day, five days of week: I got my work schedule a month at a time, put my writing schedule on the same calendar and made sure I kept it. Over the next six months, I wrote a rough novel loosely adapting Neutral Milk Hotel's perfect forty-minute album In the Aeroplane Over the Sea into four hundred embarrassing pages. Another novel no one would see, but also another proof that I could make the pages—now I just had to learn how to make them better.
I got into grad school an hour away, close enough I could commute from Ann Arbor. I put in my month's notice at the Mongolian barbecue. My last week, I had an exit interview with my regional manager, who, when I told him I was leaving to pursue an MFA in creative writing, smiled and told me I could have my job back when I got out of school. I thought about that conversation a lot over the next two years. I thought about how working in restaurants was supposed to be temporary but quickly turned into almost ten years. I promised myself I wouldn't ever go back.
I left that restaurant in the summer of 2008, and so far my luck has held. Every year my life gets closer to the one I wanted to be living fifteen years ago when I first started writing. Now I rarely think about the nearly ten years I spent in restaurants and I've never written about them. Looking back, I realize what those years gave me wasn't a wealth of experience to write from but just time. Time outside the path of school and career I had been expected to follow when I graduated high school, when I was voted "most likely to succeed" by my classmates, a fact that would occasionally return to torment me while my friends graduated from college, started careers and families, while I was crawling up a ladder I hadn't planned on climbing. Now I see how on the side I was also slowly but surely learning how to write every day, how to read like a writer, how to find my voice, my subjects. Now I see how my first year in restaurants coincided almost perfectly with my first year as a writer, how the year I left the industry for grad school was the year I wrote the first stories that would appear in my first book. I don't believe in fate but this can't be all coincidence. I first worked in restaurants because I didn't know where else to go. Perhaps what I learned best there were the very skills it took to let me leave.
* * *
* Ed. note: This is an occasional series featuring essays about the various jobs, some good, some not as good, that writers have held over the years. Go here to view more essays. Would you like to contribute? Email us.