As the point person for all things teen at Soho Press, I deal with a lot of bloggers. Some big, some small, all important … but let's be real. Some of the blogs just aren't all that attractive. They have color choices that are ill-advised, or have strange buttons in the sidebar or, appearances aside, are too chatty to feel like serious review outlets (which I consider blogs to be). If there are ALL CAPS interspersed every few lines, I have a hard time with that (same goes for Goodreads, but that's another blog post).
When I landed on In the Best Worlds, I literally gasped out loud. It's beautiful! There are easy to find social buttons! There is a shop indie button! And a New Adult guide! These are, to me, signs that this is a blogger with some serious savvy, and I wasn't wrong.
Behold: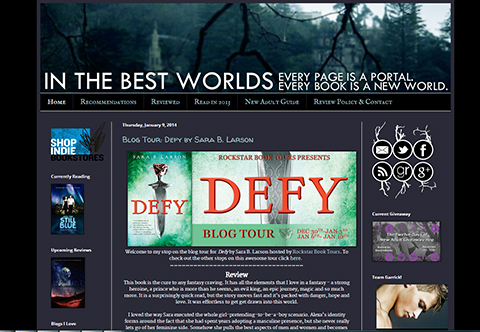 I read further and couldn't help being impressed with the sophisticated, thoughtful reviews—criticism was considered and fair, and there wasn't a whole lot of snark (I <3 snark, but it can get, well, snarky). Take this excerpt from a review of HOOKED (note that this is not a "big book," though all of those are also represented. Love that balance.):
"I kind of missed how the connection between Fred and Ryan started. The emotion behind their relationship was very real, but I missed how they changed from hating each other to being attracted to each other."
How many romances have you read and felt the same, right!?
My favorite thing about the blog is its overarching positivity. She even makes a pledge to the blogging community. Something we should all respect and emulate.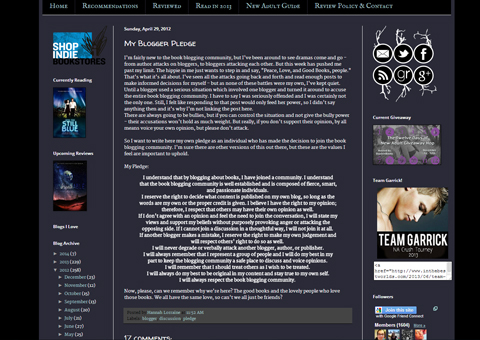 In short, Hannah is 100% welcome to any ARC we give out and you should all go visit her blog now. And find her:
And come find her guest posting with us on the 14th—she's interviewing Lisa and Laura Roecker!