Cara Black is the author of the best-selling Aimée Leduc mystery series.  The series is built around the arrondissements of Paris, where Aimée operates Leduc Detective, an agency specializing in computer security. However, the computer angle does not prevent Aimée from investigating murder the old fashioned way, in the dark cobblestoned streets of her Paris. In Cara Black's novels, the setting is as vital to the story as the murder itself. Aimée Leduc personifies Paris, in her chic clothes (found at flea markets), on her motorbike, and stopping for an espresso whenever possible.
As fascinating as the city is, I have been caught up in Aimée's family history since the first book, and I'm excited that the latest release, Murder On The Quai (June 2016) will take us back to the beginning of the story. So let's ask Cara about Aimée's kith and kin, along with a few other questions sprinkled in.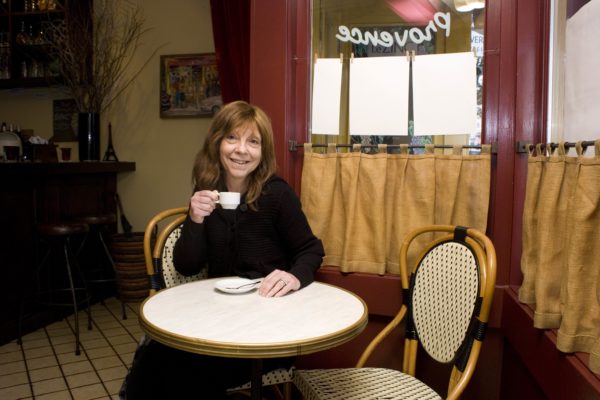 JRB: Murder On The Quai tells us a lot about Aimée's mother and how she and her father met. Will Aimée's search continue in future books?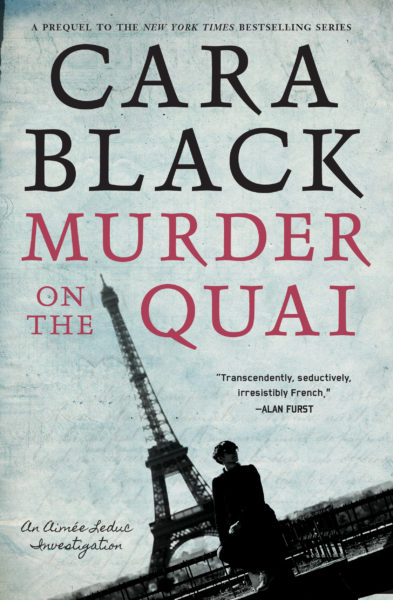 CB: Good question, Jim. Yes, Aimée is driven in her quest for answers about her mother—an American radical who disappeared from her life when she was eight—and we might find some light in the murky corners of the past.
Aimée's godfather, Commissaire Morbier, is often helpful with her cases. And sometimes not. How would you characterize their relationship?
Problematic, at best. Often stormy. She's partly been raised by him while growing up—he's taken her to ballet lessons and managed her birthdays when her father did police surveillance. Morbier has always wanted Aimée to have a family and leave investigation behind. But she's realized investigation is her forté and asks his help which he's reluctant to give trying to protect her.
Aimée's grandfather, a retired Paris detective, started Leduc Detective after leaving the police force. Have you thought about delving into his backstory any further?
Yes, I've quite fallen in love with Claude, Aimée's grandfather, who'd been a member of the old Suréte. He's a bon vivant, loves cooking, haunting art auctions, has a mistress and dearly loves his granddaughter. He's encouraged her always to follow her passion and he collects stray dogs. I think he has a wonderful backstory to explore.
Re-reading Murder In The Marais, I thought there was more gunfire than in later books. When did Aimée hang up her pistol, or does she still go out armed?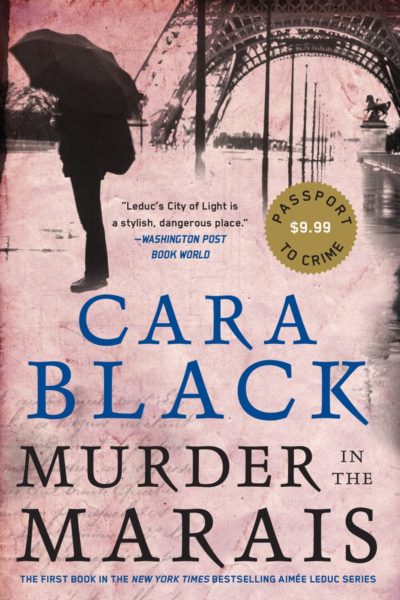 Hmm…sometimes that little Beretta of hers just doesn't fit in her clutch bag. She still uses it when needed.
In 2015's Murder on the Champ de Mars, Aimée has a newborn to deal with. What challenges does a detective as a young mother present to the writer?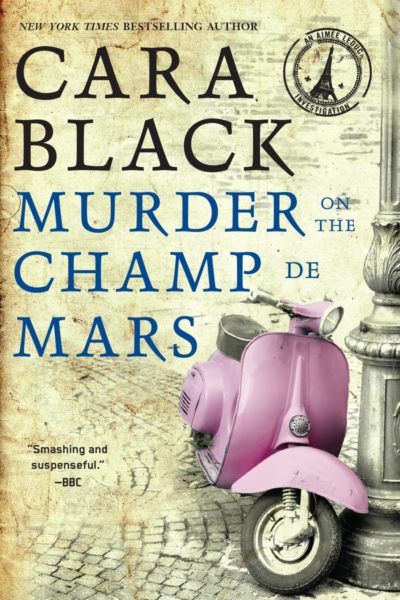 The same challenges all young mothers who run their own business present—time management and the guilt over going back to work. I hope, in writing a character with similar issues I'd experienced, to portray a young woman's mixed feelings and worry over getting it all done, doing it right and pursuing her career. How to balance it all and do what you love.
Aimée is famous for being attracted to 'bad boys'. We know her partner, the green-eyed handsome dwarf René Friant, is head over heels in love with her. Will René ever reveal his true feelings?
Ah, that's a tough one. The sexual tension, their chemistry seems vital to the series as I've imagined it. Poor René I think if their relationship went to the next level it wouldn't work out. Aimée thinks of him as her best friend. Now at least René's a godfather to her bebe Chloé  and quite involved in Aimée's life.
What's next for Aimée?
She's back investigating a 'ghost' on the Left Bank. When Aimée's obliged by an elite flic to repay a favor she finds herself investigating the 'ghost' of a Serbian war criminal who supposedly has re-appeared in a cafe in Saint Germain de Près.
If you're new to the Aimée Leduc Investigation series, start with the first in the series, Murder on the Marias, or the series prequel (on sale June 14th), Murder on the Quai!
James R. Benn is the author of the Billy Boyle World War II Mystery Series for Soho Crime. 
#SohoCrime25