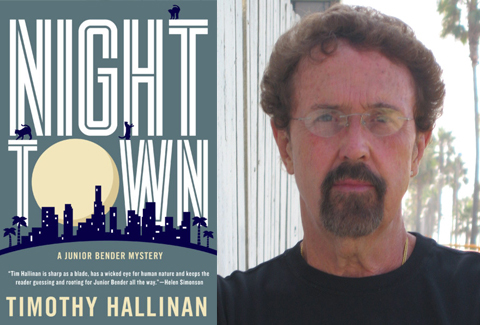 We are regularly featuring some of the authors we love from our Crime imprint over on our sister site, Discover Mysteries.
Even if you are familiar with an author's books and background, it's a great place to enjoy a comprehensive look at a series and even look anew, or from a different perspective, at the books you've come to know and love.
Our most recent feature is Timothy Hallinan, whose Junior Bender series includes a book or two that is, without question, more than just a mystery.
Here's a sampling of the essay.
Laughter and larceny are on the loose in Los Angeles in Timothy Hallinan's acclaimed Junior Bender mysteries. Fans of Donald Westlake's John Archibald Dortmunder books, Lawrence Block's Bernie Rhodenbarr series, or any of Elmore Leonard's hardboiled hijinks will feel right at home in Hallinan's comedic capers about a professional burglar whose jobs are never as simple as they seem. Hallinan deftly balances zany plots and eccentric characters with sufficient gravity to make the suspense gripping and the action tense, all while maintaining Bender's humanity and professionalism. It's a task as complex and tricky as any of Bender's cases, but Hallinan pulls it off gracefully like the perfect score—getting away clean and leaving no trace.
What makes Junior Bender so in-demand as a criminal—and such a unique character in the world of mystery fiction—is that he goes above and beyond stealing and often plays the role of private detective. "I'm a burglar. That's where my heart is," Bender describes himself in Little Elvises. "But once in a while, I help out other crooks who have a problem, who got ripped off or something and for obvious reasons can't go to the cops." Avoiding the cops is something else that Bender is great at: after twenty years in his profession, he has yet to be arrested or even pulled in for questioning (officially, that is).
From low lives to high lives, Bender finds himself intertwined with some of Los Angeles' kookiest inhabitants, including Hollywood has-beens, art-porn auteurs, mob mall magnates, and even a Jewish Santa Claus. But no amount of experience can prevent him from being roped into crazy schemes that threaten to tarnish his perfect record—or worse. Because Bender has more than just a reputation to protect, he also has a family, one that is growing increasingly distant since his wife, Kathy, divorced him and won custody of their daughter, Rina. Moving from motel to motel, seeing Rina when he can, building a relationship with his new girlfriend Ronnie Bigelow, and staying one step ahead of both the law and his increasingly long list of enemies, Bender has his hands full juggling his real life with his "steal" life.
Continue reading about Timothy Hallinan's Junior Bender series on Discover Mysteries.