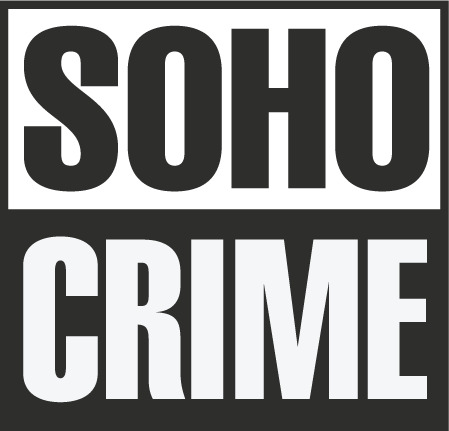 May is a busy month for Soho Crime. Check out these books coming out soon in paperback.
• The Woman Who Married a Bear by John Straley
• Death on Nantucket by Francine Mathews
• Murder in Saint-Germain by Cara Black
• The Second Day of the Renaissance by Timothy Williams
• The Birds and Beasts Were There: The Joys of Birdwatching and Wildlife Observation in California's Richest Habitat by Margaret Millar
• The Curious Eat Themselves by John Straley
***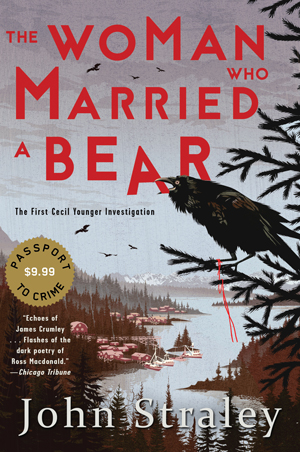 "A fascinating Alaskan setting, great characters, a highly unusual plot and remarkably good writing. It's a winner."
—Tony Hillerman, New York Times bestselling author of the Leaphorn and Chee novels
High drama meets local color as a private investigator works to uncover the motive and identity of a killer in this Shamus Award–winning first Cecil Young investigation set in Sitka, Alaska.
Cecil Younger, local Alaskan investigator, is neither good at his job nor at staying sober. When an old Tlingit woman hires him to discover why her son, a big game guide, was murdered, he takes the case without much conviction that he'll discover anything the police missed. He really just needs the extra cash. But after someone tries to kill him, Younger finds himself traveling across Alaska to ferret out the truth in the midst of conspiracies, politics, and Tlingit mythology. High drama meets local color as Cecil Younger works to uncover the motive and identity of the killer.
Amazon | Barnes and Noble | Indiebound | Soho Press
***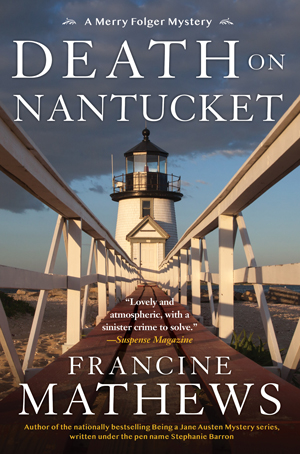 "Mathews takes readers on a holiday tour with an ocean view, complete with a murder mystery as twisted as the emotions that family can evoke."
—Publishers Weekly
Francine Mathews' no-nonsense Nantucket police detective, Merry Folger, is back on the case after nineteen years. ​Death on Nantucket, the fifth Merry Folger Mystery, is full of regional charm, a strong sense of local history, and foggy New England Island atmosphere.
Spencer Murphy is a national treasure. A famous Vietnam War correspondent who escaped captivity in Southeast Asia, he made a fortune off of his books and television appearances. But Spence is growing forgetful with age; he's started to wander and even fails to come home one night. When a body is discovered at Step Above, the sprawling Murphy house near Steps Beach, Nantucket police detective Meredith Folger is called in to investigate.
The timing couldn't be worse: It's the Fourth of July, and tourists are arriving in droves to celebrate on Nantucket's beaches, so the police force is spread thin. On top of that Merry is planning her wedding to cranberry farmer Peter Mason, and her new boss, an ex-Chicago police chief with an aggressive management strategy, seems to be trying to force her to quit. Merry can't conclude the Murphy investigation quickly enough for him. As she grapples with a family of unreliable storytellers—some incapable of recalling the past, and others determined that it never be known—she suspects that the truth may be forever out of reach, trapped in the failing brain of a man whose whole life may be a lie.
Amazon | Barnes and Noble | Indiebound | Soho Press
***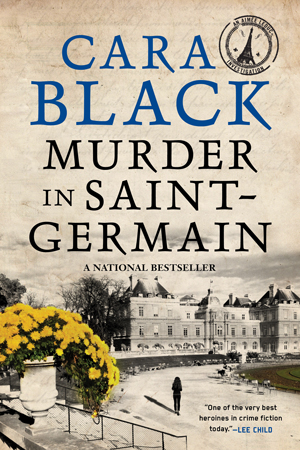 "The abiding pleasure of this series is the chance to ride with a cabdriver who wants to discuss Sartre or just tearing around Paris on Aimée's pink Vespa, making stops at the Jardin du Luxembourg and the Île Saint-Louis, where Aimée has an apartment. Lucky girl."
—Marilyn Stasio, The New York Times Book Review
Paris, July 1999: Private investigator Aimée Leduc is walking through Saint-Germain when she is accosted by Suzanne Lesage, a Brigade Criminelle agent on an elite counterterrorism squad. Suzanne has just returned from the former Yugoslavia, where she was hunting down dangerous war criminals for the Hague. Back in Paris, Suzanne is convinced she's being stalked by a ghost—a Serbian warlord her team took down. She's suffering from PTSD and her boss thinks she's imagining things. She begs Aimée to investigate—is it possible Mirko Vladić could be alive and in Paris with a blood vendetta?
Aimée is already working on a huge case; plus, she's got an eight-month-old baby to take care of. But she can't say no to Suzanne, whom she owes a big favor. Aimée chases the few leads she has, and all evidence confirms Mirko Vladić is dead. It seems that Suzanne is in fact paranoid, perhaps losing her mind—until Suzanne's team begins to die in a series of strange, tragic accidents. Are these just coincidences? Or are things not what they seem?
Amazon | Barnes and Noble | Indiebound | Soho Press
***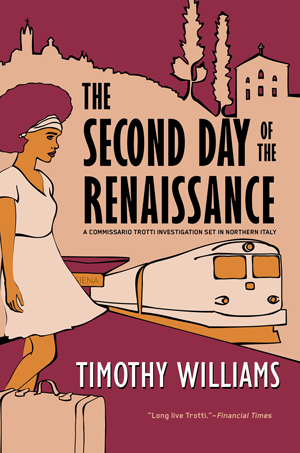 "It's hard to resist Williams as he unfolds his tale in tiny, deliciously wry narrative nuggets—100 titled chapters of puckish literary pointillism."
—Kirkus Reviews
Timothy Williams was selected by The Observer as one of the "10 Best Modern European Crime Writers" for his series featuring Northern Italian police detective Piero Trotti. Now, 20 years after his last investigation, Trotti returns!
After decades as a police detective in his Northern Italian hometown on the River Po, Commissario Piero Trotti has retired. But retirement brings him no respite. An old friend calls him to Siena to give him urgent news: a notorious hit man has returned to Italy to kill Trotti. The former inspector isn't surprised to learn of the vendetta against him; Trotti has plenty of skeletons in his closet. His mistaken accusations and failed gambles have cost innocent lives in the course of his investigations. Though Trotti carries the burden of these deaths with him each day, now someone else has appeared to enact his own, long-awaited retribution.
Traveling across Italy to escape his pursuer, Trotti revisits his own past and searches for clues to the cold-case murder of Valerio Gracchi, a leftist radical who became a national media sensation. But even the right answers may not save Trotti and his loved ones.
Amazon | Barnes and Noble | Indiebound | Soho Press
***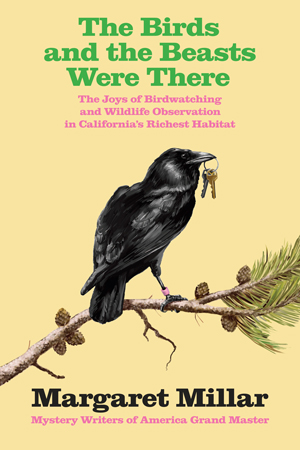 "One of the most original and vital voices in all of American crime fiction."
—Laura Lippman
Santa Barbara in the 1960s was home to two of the 20th century's most important mystery writers, Margaret Millar and her husband, Ken (Ross Macdonald). It was also home to nearly 400 species of bird. This is the charming story of Ken and Maggie's quest to see them all.
The addiction that is birdwatching comes to vivid life in Margaret Millar's delightful memoir of her early days as a naturalist. Part autobiography and part birdwatcher's journal, it is a moving elegy to a bygone place and time. Millar brings her meticulous plotting and no small amount of suspense to these charming stories of a belligerent brown towhee named Houdunit, a larcenous raven called Melanie, and a rat who carefully ferments his grapes before eating them, to name only a few.
Ornithology was a passion for both Ken and Maggie and they devoted their lives to it with the same keen sense of detail and, in the case of Margaret, storytelling vigor as they brought to their writing. In this book, the only memoir she wrote, Millar takes us on her journey from curious amateur to obsessive completionist. It is a phenomenon nearly any birding enthusiast will recognize.
Ken and Margaret Millar were founding members of the Santa Barbara Audubon Society.
Amazon | Barnes and Noble | Indiebound | Soho Press
***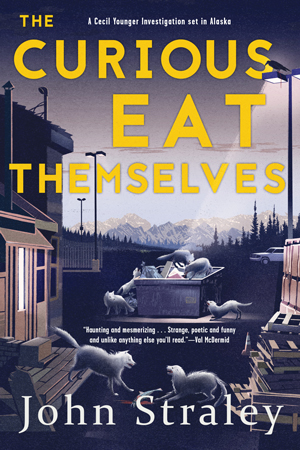 "Straley is one of the best prose stylists to emerge from the genre in a long time, and his evocation of the chilly, dangerous landscape and climate effectively sets a foreboding tone."
—San Francisco Chronicle
Welcome to Sitka, Alaska, a land of breathtaking vistas and beautiful fauna, where locals are trying their best to be good—and to survive—in what may be the last vestige of the Wild West.
When local woman Louise Root asks private detective Cecil Younger to investigate her rape at the Otter Creek gold mine, he agrees. After all, Louise is a close friend of his ex. Maybe helping her out could improve Hannah's opinion of him. But before Cecil can make progress on the case, he witnesses Alaska state troopers fishing her body out of the ocean—not exactly the resolution he had in mind.
Despite the unfortunate end his last client met, Cecil finds himself inundated with requests from all sides: his old friend, Officer Doggy, wants help controlling the grieving Hannah; Cecil's autistic roommate, Todd needs help finding his Labrador retriever; and the sleazy executives of Global Mining want dirt on a local environmental activist—a request even the bungling PI finds suspicious. But Cecil also feels a responsibility to discover the truth behind Louise's death. If Louise knew a secret that got her killed, Cecil needs to discover and expose the truth before he, too, is permanently silenced.