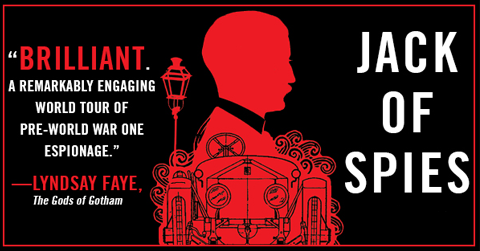 As you all know, David Downing's new novel, JACK OF SPIES, is now available in stores everywhere. But here at the Soho office, we're holding something extra special—limited edition signed hardcovers.
Prior to last night's wonderful book launch at Barnes & Noble, Downing, accompanied by his wife Nancy, stopped by to say hello.
He was also kind enough to sign some of his new books, which we now have available for you to purchase.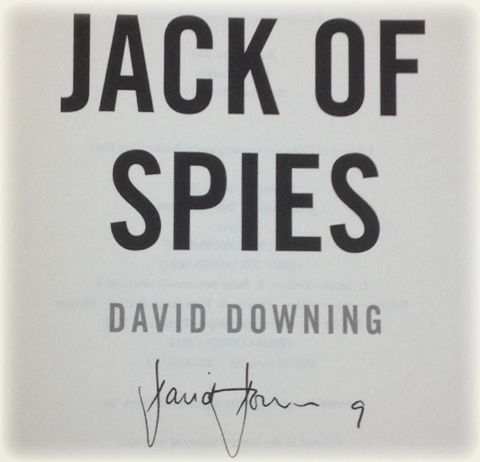 (+ $5 domestic shipping)
It is 1913, and those who follow the news closely can see the world is teetering on the brink of war. Jack McColl, a Scottish car salesman with an uncanny ear for languages, has always hoped to make a job for himself as a spy. As his sales calls take him from city to great city—Hong Kong to Shanghai to San Francisco to New York—he moonlights collecting intelligence for His Majesty's Navy, but British espionage is in its infancy and Jack has nothing but a shoestring budget and the very tenuous protection of a boss in far-away London. He knows, though, that a geopolitical catastrophe is brewing, and now is both the moment to prove himself and the moment his country needs him most.
The Onion A.V. Club says of JACK OF SPIES,  "Downing deftly depicts the complex prelude to World War I a web of unrest that connects German coal-hoarding in China, anti-imperialist protests in India, and labor strife in New Jersey, among other seemingly disparate tensions … It's fun to watch the novice spy [Jack McColl] learn his craft."
Click the button below to purchase what's sure to quickly become a coveted collector's item. We have a limited number, so act fast!

(+ $5 domestic shipping)