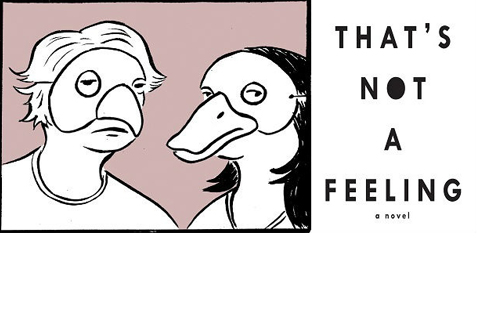 UPDATE: Check out the New York Times Book Review's wonderful take on Dan Josefson's debut.
On October 2, 2012 Dan Josefson's debut novel That's Not a Feeling will be on store shelves in all its beautiful paperback glory (Look right. See?).
This book, it's a gem. A gem among gems, even.
David Foster Wallace called it "A bold, funny, mordant, and deeply intelligent debut," and Tom Bissell says,"If That's Not a Feeling were a fifth novel, it would be a triumph. As a first novel, it is an astonishment."
Agreed, sirs.
We've never encountered a book that's taken such an amazing path to publication–a story you'll be hearing a lot more of in the next couple of months–or won more fans around the office so immediately after its discovery.
Dan (Full Soho office nickname: "DJ Jazzy Josefson." I'm not sure if that's an office-only nickname, but there it is), put this hilarious book trailer together on his own, and in the world of publishing such efforts are the self-promotional gold we all dream about.
BEHOLD: