Hannah from In the Best Worlds runs a beautiful blog–as we noted here. And we're very glad to have her guest blog with us! She chose to interview Lisa and Laura Roecker, authors of This is W.A.R. which came out last July. Here's Hannah!
I was lucky enough to meet the amazing Roecker sisters a little over a year ago when they came to New York promoting the second book in their Liar Society series. They are beautiful women who simply exude energy and happiness. You get the sense that their lives are a lot of fun, or that they make everything a lot of fun. They're so sweet and genuine.
Really, I can't say enough nice things about Lisa and Laura, so if you ever get the chance to meet them jump on it! Even better, is that their books, the latest of which is This is W.A.R., are amazing! So I'm excited and thankful to Soho Teen for the chance to interview Lisa and Laura.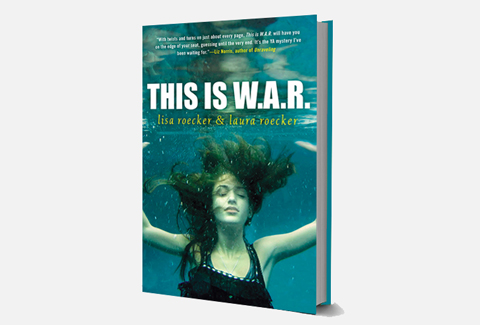 Since you guys write for teens, what were you like as teenagers?
If we're being honest, we are not that much different today as we were as teenagers. We still watch way too much crap television, worry about wearing the right outfit or whether our skin is going to break out (um … really thought that would be gone by now) and try to balance family, friends and work (even though we're not working at Dr. Langstaff's office anymore). When we reflect, our experience as young adults was a really positive one and not nearly as turbulent as the characters in our books. We had/have supportive parents, functional relationships with our siblings and fun, loving (for the most part) friends.
What is your favorite part of writing young adult mystery books?
Cracking the mystery. We might complain as we're plotting and are often heard saying, "Whose idea was it to write mysteries again?" but there is absolutely nothing like synchronizing all the working parts or getting an email back that says, "AHHHH! THIS WORKS!" It's addicting and exciting and more fun than we ever could have imagined having at work. Even more fun than ordering a three-course Italian dinner to the front desk of the dentist's office where we worked and splattering tomato sauce on the appointment books. True story.
What has been your favorite moment of your career as authors so far?
It has to be seeing our books on the shelves of actual bookstores or having people send us pictures of the books on the shelves. It is surreal every time and we never could have predicted that we would be lucky enough to hold our words between our fingers.
What published book do you wish you had written?
Many! But if we had to name one, it'd be The Sky Is Everywhere by Jandy Nelson. Or maybe Beach Music by Pat Conroy. Or Gone With the Wind. Gah! See, we really just can't pick one. We're all over the place.
What heroine from any book do you think you're most like?
Lisa is the most like Kate Lowry from The Liar Society series. Well, Kate is a cooler, braver, smarter version of Lisa. And Laura is a smarter, more confident version of Sloane from This Is W.A.R.
Can you dish on what you're working on now?
We're currently plotting a new murder mystery told from the perspectives of people who are linked together for an important reason.
Finish these sentences …

The first thing we do when we see each other after being apart is…
It's been so long since we've been apart—we literally talk multiple times a day and see each other at least two times a week. I'd say HUG. The Roeckers are big huggers. Watch out.
We can never agree on…
Swear words. Lisa adds them in and Laura takes them out.
We could be best friends if…
Um … we are best friends. We thought all sisters were until people started telling us how lucky we are. So now we know. We're lucky.