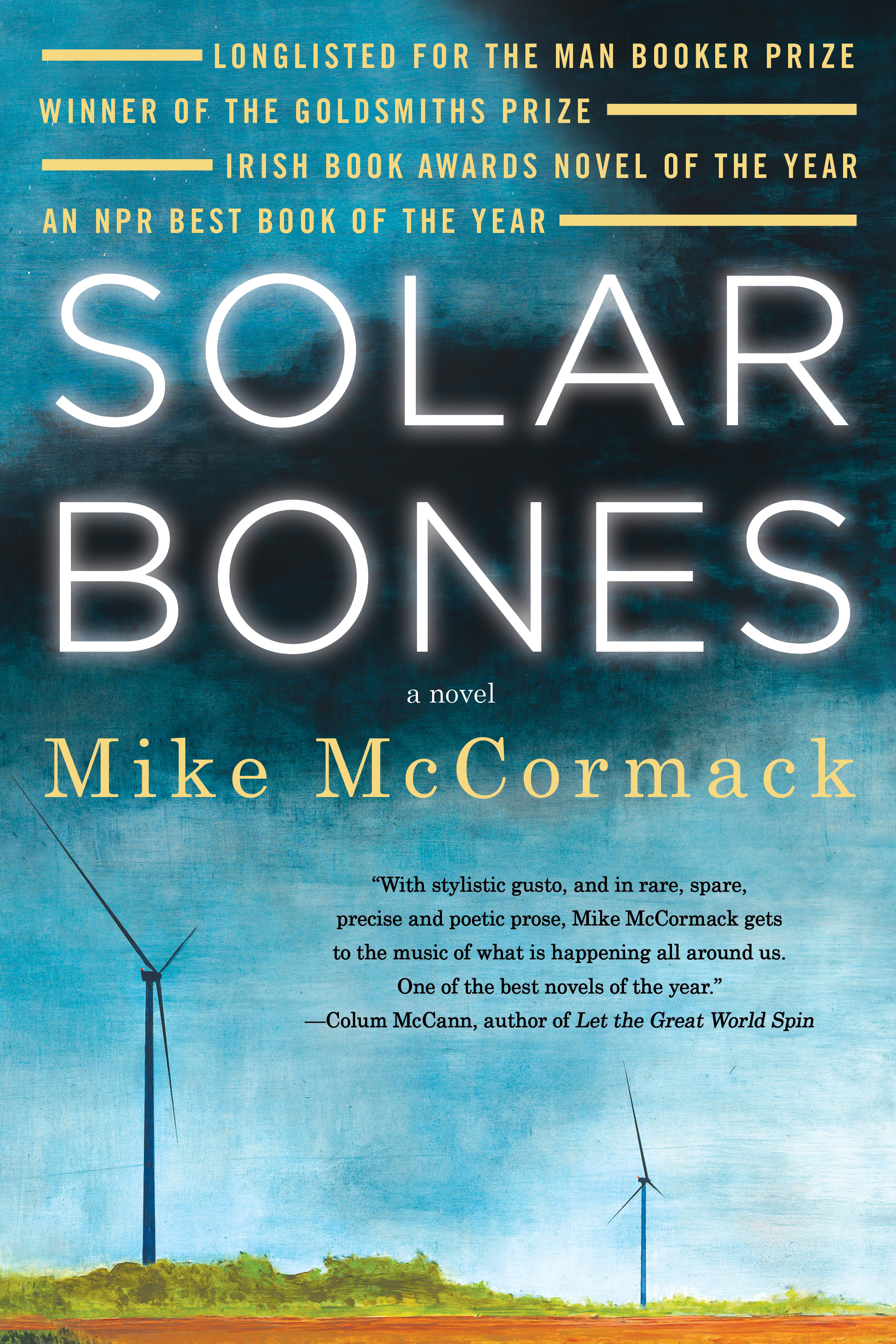 Congratulations to Mike McCormack, whose brilliant Solar Bones was just awarded the 2018 Dublin Literary Award. Read the official press release below, and pick up your copy of the book here. 
Mike McCormack's Solar Bones is the winner of the 2018 award!
#DubLitAward                                                                        13th June 2018
EMBARGOED: 11.50 am Wednesday 13th June 2018
Solar Bones by Mike McCormack wins the 2018 International DUBLIN Literary Award
13th June 2018: Irish author Mike McCormack has won the 2018 International DUBLIN Literary Award for his novel Solar Bones. The Award is organised and sponsored by Dublin City Council and at €100,000 is the world's largest prize for a single novel published in English. Mike McCormack is the fourth Irish author to win the prize in its 23-year history.
Uniquely, the Award receives its nominations from public libraries in cities around the globe and recognises both writers and translators. The winner was announced at a ceremony in Dublin's Mansion House today.
Mike McCormack is an award-winning novelist and short story writer from County Mayo, Ireland. In 1996 he was awarded the Rooney Prize for Irish Literature and in 2007 he was awarded a Civitella Ranieri Fellowship. In 2016 he won the Goldsmiths Prize and the Bord Gáis Energy Irish Book Award for best novel for Solar Bones. He was elected to Aosdána in May 2018. He currently lives in Galway, Ireland.
The winning novel was chosen from a total of 150 titles, nominated by libraries in 111 cities across 37 countries.  It was first published by Tramp Press, an independent Irish publisher founded by Sarah Davis-Goff and Lisa Coen. The shortlist of ten novels, as chosen by an international panel of judges, included novels from four continents.
Once a year, on All Souls' Day, it is said in Ireland that the dead may return. Solar Bones is the story of one such visit. Marcus Conway, a middle-aged engineer, turns up one afternoon at his kitchen table and considers the events that took him away and then brought him home again. Funny and strange, McCormack's ambitious and other-worldly novel plays with form and defies convention. This profound new work is by one of Ireland's most important contemporary novelists. A beautiful and haunting elegy, this story of order and chaos, love and loss captures how minor decisions ripple into waves and test our integrity every day.
Commenting on his win, Mike McCormack said: 'I am delighted to receive this unique prize which continues to recognise the valuable work of libraries around the world. To have Solar Bones chosen from a shortlist with such a broad international outlook is a special honour indeed. I have always thought that the inclusion of translated work is a particularly valuable aspect of the International DUBLIN Literary Award; these different voices and the diverse ways in which they tell their stories ensures that the novel in English does not become dull or complacent. Long may the prize continue to reach out with such intellectual and artistic curiosity across the world.'
Speaking at the winner announcement, Lord Mayor & Patron of the Award Mícheál Mac Donncharemarked; 'The International DUBLIN Literary Award is a great Dublin success and a great international success – and our thanks go to all who are involved in making the Award work – writers, translators, publishers, librarians, and the administrative staff of the City Council.'
The prize money was presented to the winner by Owen Keegan, Chief Executive of the Award's founders and sponsors, Dublin City Council. The Award is a key part of the City's work in promoting Dublin as a UNESCO City of Literature, and as a great place for people to live, work in, and visit.
The Award ceremony at The Mansion House in Dublin was livestreamed on the International DUBLIN Literary Award Facebook page to allow people from across the world to tune in to the event.
The 2018 judging panel, which includes Irish poet Vona Groarke, commented:
'Formally ambitious, stylistically dauntless and linguistically spirited, Solar Bones is a novel of extraordinary assurance and scope. That its protagonist, Marcus Conway, is dead we know from the back cover blurb: the novel's task is, through the miracle of language, to bring him back to life. And so it does, bringing him back to his life, a life experienced as both ordinary (in its daily routines) and extraordinary (in its probing of what it means to be alive).
The novel's seamless structure gives it a beautifully fluid pace. An extremely enjoyable read, it is also poignant, moving and evocative. Although firmly committed to its particular Mayo setting, this is a novel of universal appeal: if you know Ireland, you will recognise this world; but if you don't, you will still recognise Marcus Conway, a rich and (literally!) haunting character who brings a whole world to life.'  (full citation below)
The other judges were Xiaolu Guo, Nicky Harman, Courttia Newland and Mpalive Msiska. The non-voting chair was Judge Eugene Sullivan.
Solar Bones was nominated by Galway Libraries and by Nottingham Libraries, who commented:
'A readable, experimental novel set in and described as a hymn to small town Ireland.
This is such a unique and unusual book that we feel the author deserves recognition. The novel is written in a single sentence which could have felt like a literary gimmick but instead comes across as really accomplished storytelling. In addition to his distinctive technique McCormack also brilliantly describes the area in which the book is set, making it a powerful element in the book.'
The 2018 shortlist included six novels in translation and authors and translators from America, Germany/Ukraine, Ireland, Italy, Mexico, Norway, South Africa/Nigeria/Barbados, South Korea and the UK.
Copies of the winner, the shortlist and the full list of novels nominated for the 2018 award available to borrow from Dublin Public libraries.