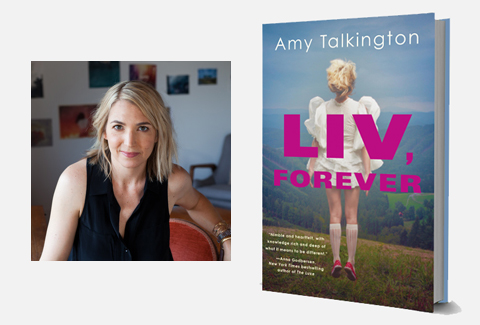 We do a lot of blog tours around here. This is partly because we love bloggers, but also because there's really no better way to create a huge amount of buzz around a YA book. The bloggers are an integral part of how we get the word out (want to get invitations to our blog tours? Sign up for our blogger newsletter here). But the response to the LIV, FOREVER blog tour blew us away. We could only leave the form up for a few hours before the numbers go too big to handle. This meant sending out a lot of galleys, and Amy writing a TON of posts. But it was so worth it!
Behold. The LIV, FOREVER blog tour:
(We'll keep updating as the tour continues!)
March 6
The O.W.L.: Guest Post
Itching for Books: Review, 4 "stars"
March 7
Pages of Adventure: Review, 4 Stars
Chrissi Reads: Review, 4.5 Stars
March 8
Watercolor Moods, Interview
March 9
A Dream Within A Dream: Review; 3.5 "stars"
March 10:
Crossroad Reviews: Guest Post
Jessabella Reads: Casting Minerva
Cornucopia of Reviews: Review, 4 "stars"
March 11
Ashley Loves Books: Guest Post
The Happy Booker: Top 10 List
bookaholics anonymous: Interview
Poisoned Rationality: Review, 3 Stars
Cook Scrap Craft: Review; "Liv, Forever delivers."
 March 12
Jump Into Books: Guest post and review ("This book is simply amazing!!")
Read Now Sleep Later: Guest Post
Ex Libris: Interview
I Blog, You Read: Review ("Bottom line this book was just awesome.")
The Rest Is Still Unwritten: Guest Post, Casting Malcolm
March 13
Short & Sweet Reviews: Guest Post, Review, 5 stars
Chapter by Chapter: Interview
Beauty and the Armageddon: Interview
Little Library Muse: Interview
Actin' Up with Books: Review, 4.5 "stars"
A Backwards Story: Review, "Eternal torment. The occult. The macabre. [Liv, Forever] is definitely a book needed in YA"
Tales of a Ravenous Reader: Guest Post
The Hiding Spot: Review ("THIS BOOK. Oh my goodness. LIV, FOREVER is such a beautifully written, compulsively readable novel.")
March 14
Ticket to Anywhere: Guest Post
The Book Girl Reads: Interview
YA Bibliophile: Interview
No More Grumpy Bookseller: Guest Post
Star Shadow Blog: Playlist (listen on Spotify!)
KellyVision: Review ("Highly recommended.")
March 15
Confessions of a Readaholic: Who Would You Cast: Liv
The BookBandit Blog: Review ("Readers will not be able to put the book down… [Talkington] has a real knack for keeping readers guessing.")
March 16
Behind a Million and One Pages: Playlist
Mind Reading?
March 17
My Shelf Confessions Playlist representing Gabe
The Passionate Bookworm: Review ("So many different readers will enjoy this story. Fans of mysteries and thrillers, Horror, drama and romance.")
The Bookscape Report: Review ("I loved Liv. She was such a fun character, and I loved it that she was an artist. The supporting characters, particularly Gabe and Malcolm, were equally as great.")
A Nook for Books: Review ("It really had everything you could want in a ghost story. Cute boys, creepy boarding school, secret organizations, and of course, lots of ghosts!")
lilybloombooks: Review ("Liv is a strong and likeable main character. She had spent quite a stint in Foster care, and is very artistic and different, which I loved.")