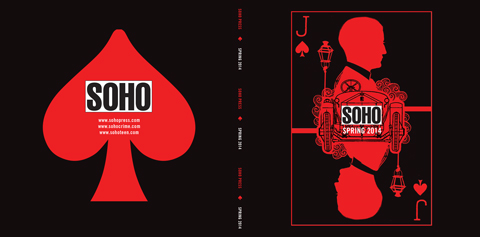 We are proud to present the official Spring 2014 catalog for Soho Press, Soho Crime, and Soho Teen! What are we excited about? Well, everything. But that's what the catalog is for, so here are a few highlights.
The Soho Crime list this season is particularly robust: David Downing, author of the WWII-era John Russell spy thrillers, returns with a new series in JACK OF SPIES, a tale of love, loss and espionage in a world on the brink of war in 1913. If you're aching to return to Paris with Cara Black, MURDER IN PIGALLE hits close to home for Aimée Leduc as she tracks a serial rapist at the behest of her teenage neighbor, who then disappears.
On the Soho Press side, Paula Bomer (NINE MONTHS) returns this May with INSIDE MADELEINE, a visceral short story collection whose title character is the quintessential outsider. Meanwhile, Sean Madigan Hoen makes his debut with SONGS ONLY YOU KNOW, a memoir about finding salvation in the Detroit underground music scene.
Lastly (but far from least) comes a Soho Teen list unlike any before. Liv Bloom, the spunky, artistic protagonist of Amy Talkington's LIV, FOREVER is viciously murdered, and must work with the only person who can still see her to unravel a conspiracy at her boarding school that dates back hundreds of years. Our summer read is a debut novel by Joe Shine, I BECOME SHADOW, in which a teenage killing machine rebels against the agency that trained her in order to save a friend.
This catalog is an exclusive preview of a few of our upcoming titles, so we hope you'll check it out!