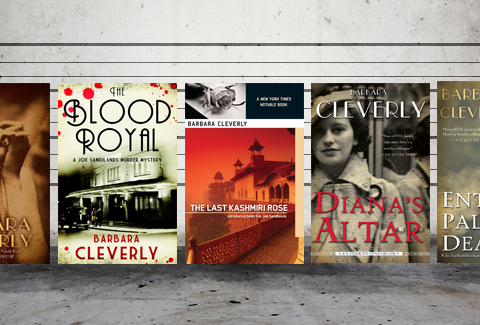 "Despite her mastery at vivid scene-setting, Cleverly never loses sight of the historical puzzle that is central to her story. Simply put, it's a stunner."
—New York Times
The Joe Sandilands Series
Setting: London
Number of Crimes (Titles in Series): 7
Last Seen (Most recent title): Diana's Altar
Series description: London, 1933: Commissioner Joe Sandilands is a suave, capable WWI vet who takes on Scotland Yard's trickiest high-profile cases.
Series includes: The Last Kashmiri Rose, Not My Blood, The Blood Royal, Strange Images of Death, A Spider in the Cup, Enter Pale Death, Diana's Alter
Barbara Cleverly  was born in the north of England and is a graduate of Durham University. A former teacher, she has spent her working life in Cambridgeshire and Suffolk; she now lives in Cambridge.
#SohoCrime25