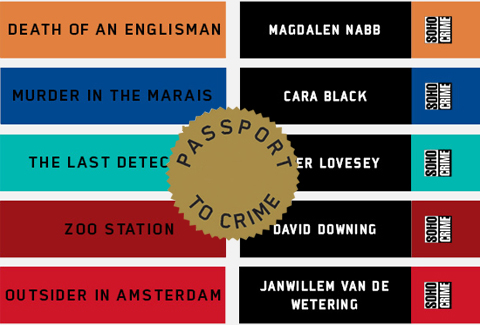 Feeling lucky? Want to enter a contest to win Soho's "Passport to Crime" bundle?
Excellent!
All you have to do is sign up for our newsletter.
(Don't worry, we won't flood your inbox a la Go Daddy. Nope, all you'll get from us is a monthly update on new titles, Soho news, author events, and exclusive members-only deals on our books.)
The Passport to Crime bundle includes the following books:
—Crashed by Timothy Hallinan
—Billy Boyle by James R. Benn
—Detective Inspector Huss by Helene Tursten
—Outsider in Amsterdam by Janwillem Van de Wetering
—Zoo Station by David Downing
—Siren of the Waters by Michael Genelin
—Death of an Englishman by Magdalen Nabb
—Random Violence by Jassy Mackenzie
—Blood of the Wicked by Leighton Gage
—The Last Detective by Peter Lovesey
—Jade Lady Burning by Martin Limón
—Murder in the Marais by Cara Black
Just fill out the form below. We'll choose one lucky winner this Friday (1/17/14).
Good luck!
UPDATE: Congratulations to Drew Broussard, winner of the First in Crime series!
-Thanks to everyone who entered.