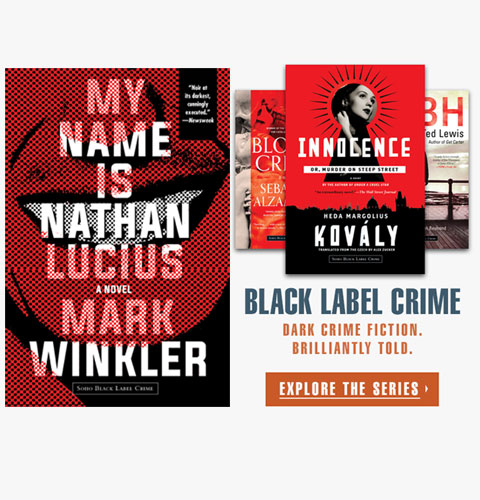 Earlier this week we alerted you to a significant noir event – South African author Mark Winkler's My Name is Nathan Lucius being released in paperback.
Publisher's Weekly says, "Those with a taste for the darkest of noir will be gratified," while Booklist insists the book is "bleak, ambitious, and thought provoking, and it will find fans among lovers of both darkest noir and transgressive literary fiction."
Bottom line? If you're into pitch black noir with a literary attitude, pick up a copy of Winkler's masterpiece today. What's more, Nathan Lucius is but one book in Soho Crime's ever-expanding, always-thrilling Black Label series.
The books here are the darkest of the dark. The series includes:
• Sebastià Alzamora explores the unnatural power at work behind a series of brutal murders in Blood Crime
• Dan Fesperman's deeply philosophical novel set during the horrors of the Bosnian War, Lie in the Dark
• Finnish author Karo Hämäläinen's grim homage to Agatha Christie, Cruel is the Night
• Heda Margolius Kovály's soviet Czechoslovakian homage to Raymond Chandler, Innocence; or, A Murder on Steep Street
• Ted Lewis's hauntingly strange novel, GBH
To welcome the paperback edition of Nathan Lucius, this weekend only we are running a sale on all titles in the Black Label series.
Here's the deal:
1. Purchase My Name is Nathan Lucius and receive another Black Label title for half off. Use coupon code : BlackLabel+1
2. Purchase My Name is Nathan Lucius plus a second series book and receive a third Black Label title for free. Use code: BlackLabel+2
3. Purchase My Name is Nathan Lucius as part of the complete Black Label series and receive an additional 15% off the entire series. Use code: BlackLabelSeries