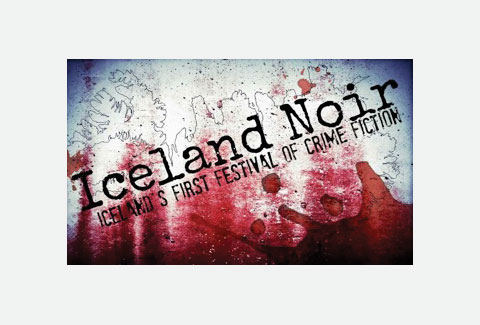 Ed. note: Last week, the very first Iceland Noir Festival took place in Reykjavik. Below, Quentin Bates, a featured panelist there, describes how a surge in Icelandic crime fiction led the the festival's creation. 
* * *
Icelanders tend to be hugely enthusiastic about something new. The original idea for a one-day get-together of like-minded people mushroomed into something bigger as a bunch of other events appeared around it. Newspapers have covered it, and even the Guardian in the UK decided that this was one of the best crime fiction events to attend – even though this is the first one.
It's almost odd that Iceland has never had a crime fiction festival of its own before. It has had regular literary festivals, but those tend to be far more highbrow affairs. I think I'm right in saying there's no crime fiction festival in Sweden either, even though the majority of Nordic Noir comes from the land of lakes and forests; Henning Mankell, Åsa Larsson, Camilla Läckberg, Arne Dahl, Håkan Nesser, Åke Edwardsson, Stieg Larsson and the pioneers of Scandicrime, Maj Sjöwall and Per Wahlöö, all hail from Sweden and virtually every Swede who has ever put finger to keyboard appears to have been translated. But no crime festival. There are respected crime fiction conventions in Norway, Denmark, several big events in Germany, a great many in France, plus some excellent ones in Britain and huge crime fiction conventions in the US. Correct me if I'm wrong, but Sweden appears to have been left behind on this score, as has Iceland, until now, that is.
On the other hand, it may reflect the general view of crime fiction. Until recently, Iceland only had a handful of regular crimewriters, including Viktor Arnar Ingólfsson, who has been at it for years practically alone. Up-and-coming writers stuck to the more respectable literary stuff, while the Christmas booklists used to be dominated by seafaring stuff and biographies. There was plenty of crime on the shelves as well, virtually all of it translated from English or elsewhere.
Then crime took off in a very big way, and anyone working on writing a book is now automatically assumed to be writing crime stuff. My guess is that this burst of criminal activity has been very largely due to the growth of Nordic crime fiction elsewhere, and also to the success of the Icelandic authors who have done spectacularly well in translation; Arnaldur Indriðason and Yrsa Sigurðardóttir are the ones who really stand out. Their success, and in particular their success overseas, has given Icelandic crimewriting a respectability it didn't have before, and we're back to that huge enthusiasm that Icelanders have for something new.
Iceland has been somewhat under-represented in translation. There are only a handful of Icelandic authors who have made it into English, most of them more literary types. Fewer than half a dozen crimewriters from Iceland are out in English, although there are more than enough out there to fill a crime festival and a half, and that's without the writers from Britain and elsewhere who have also travelled to Iceland Noir.
__________________
Quentin Bates' Chilled to the Bone releases today. Enter to win a free galley, here.