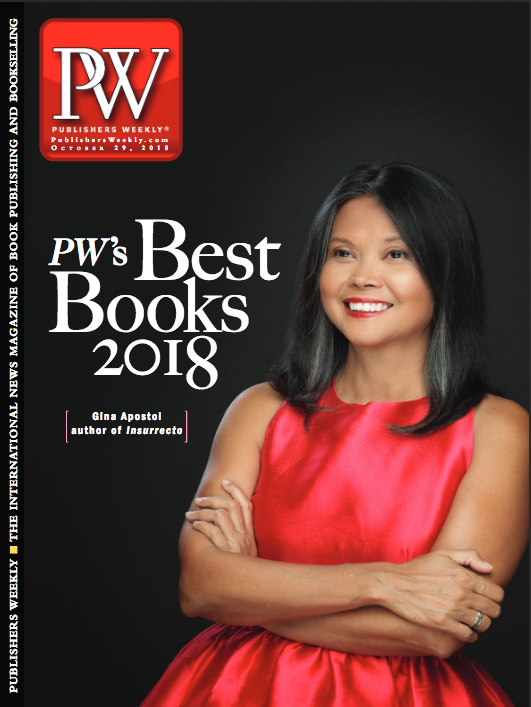 Congratulations to Gina Apostol and Sujata Massey, whose novels Insurrecto and The Widows of Malabar Hill have been selected for Publishers Weekly's Best Books of 2018!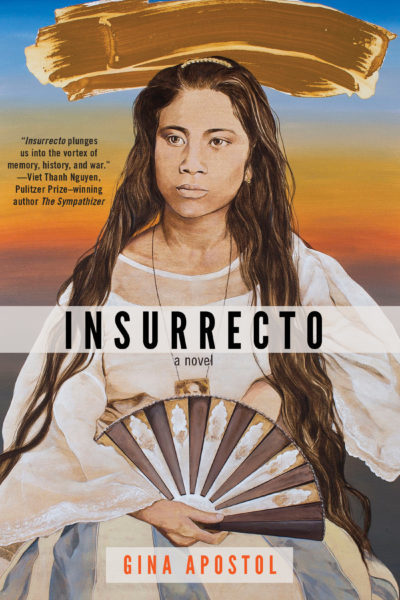 Buy from Your Local Bookstore | Buy from Barnes & Noble | Buy from Amazon  | Buy from Soho Press
• A Publishers Weekly Top 10 Best Books of 2018 & Cover Author
• A BuzzFeed Best Book of Fall 2018
• The Millions Most Anticipated Fall Books of 2018
"A pyrotechnical marvel with a plot rooted in the Philippine-American War, unspooling over decades and across the globe, as it raises questions about class, conquest, and who gets to tell history … Apostol's novel of staggering imagination … fearlessly probes the long shadow of forgotten American imperialism." –Publishers Weekly, Starred Review
Funny, hip, cross, and critical, PEN Open Book Award and two-time Philippine National Book Award-winner Gina Apostol's Insurrecto is a delightfully complex tour de force that shines a light on the dark side of America's relationship with the Philippines.
Two women, a Filipino translator and an American filmmaker, go on a road trip in Duterte's Philippines, collaborating and clashing in the writing of a film script about a massacre during the Philippine-American War. Chiara is working on a film about an incident in Balangiga, Samar, in 1901, when Filipino revolutionaries attacked an American garrison, and the "howling wilderness" created in the wake of U.S. retaliation. Magsalin writes her own version of Chiara's script. Insurrecto contains two rival scripts from filmmaker and translator—one about a white photographer, the other about a Filipino schoolteacher.
Within the spiraling voices and narrative layers of Insurrecto are stories of women—artists, lovers, revolutionaries, daughters—finding their way to their own truths and histories. Using interlocking voices and a kaleidoscopic structure, the novel is startlingly innovative, meditative, and playful. Apostol pushes up against the limits of fiction in order to recover the atrocity in Balangiga, and in so doing, she shows us the dark heart of an untold and forgotten war that would shape the next century of Philippine and American history.
***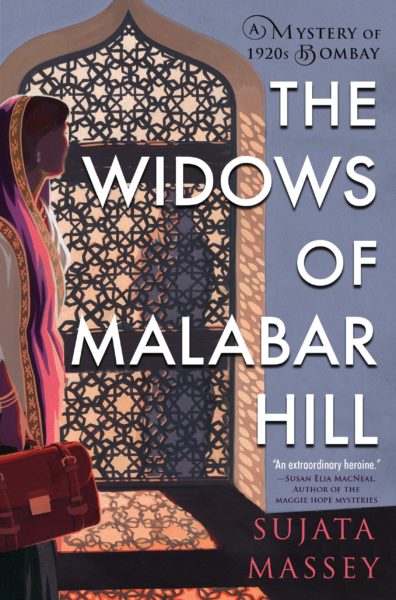 Buy from Your Local Bookstore | Buy from Barnes & Noble | Buy from Amazon | Buy from Soho Press
• A Publishers Weekly Best Book of 2018: Thriller/Mystery
• An Amazon Editor's Pick
• The Bookseller (UK) Editor's Pick
• A Library Journal Editor's Pick
• An American Booksellers Association Indie Next Selection
• An iTunes Most Anticipated Book of 2018
• A Bustle Most Anticipated Book of 2018
• A LitHub Most Anticipated Title of 2018
• One of Cosmopolitan's 33 Books to Get Excited About in 2018
"[An] outstanding series launch . . . The period detail and thoughtful characterizations, especially of the capable, fiercely independent lead, bode well for future installments." —Publishers Weekly, Starred Review
1920s India: Perveen Mistry, Bombay's first female lawyer, is investigating a suspicious will on behalf of three Muslim widows living in full purdah when the case takes a turn toward the murderous. The author of the Agatha and Macavity Award-winning Rei Shimura novels brings us an atmospheric new historical mystery with a sharp and promising new female sleuth.
Inspired in part by the woman who made history as India's first female attorney, The Widows of Malabar Hill is a richly wrought story of multicultural 1920s Bombay. Perveen Mistry, the daughter of a respected Zoroastrian family, has just joined her father's law firm, becoming one of the first female lawyers in India. Armed with a legal education from Oxford, Perveen also has a complex personal history that makes women's legal rights especially important to her.
Mistry Law has been appointed to execute the will of Mr. Omar Farid, a wealthy Muslim mill owner who has left three widows behind. But as Perveen examines the paperwork, she notices strange details that arouse her suspicion: one of the widows has signed her form with an X, meaning she probably couldn't even read the document. The Farid widows live in full purdah—in strict seclusion, never leaving the women's quarters or speaking to any men. Are they being taken advantage of by an unscrupulous guardian? Perveen realizes her instincts were correct when investigation sparks a murder. Now it is her responsibility to figure out what really happened on Malabar Hill, and to ensure that no innocent women are in further danger.
***