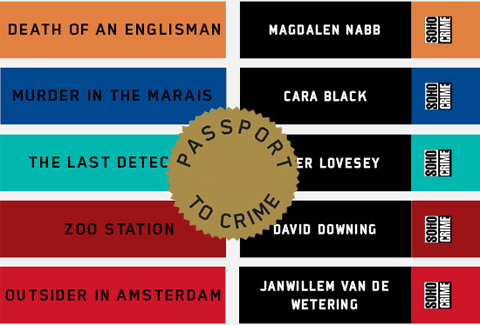 A new year of reading awaits, and with so many incredible books to read, sometimes it is difficult to decide where to start.
Story is paramount, of course, but price also factors into making such decisions.
Soho Crime has your back.
This weekend, all of our first-in-series ebooks are on sale for $4.99.
There are more than 30 books available, each set in an exciting, far-flung location, driven by plots that thrill, reveal, and surprise.
Scoop up as many books as you please, there's no limit to how many you can add to your cart, and start 2019 on a Soho Crime reading bender!
There's even a Passport to Crime booklet you can download. It includes food and drink recipes, discussion questions, and handy maps that point out where some of the books are set.
Available titles include:
—Jack of Spies by David Downing
—Ghost Month by Ed Lin
—Death in the Off-Season by Francine Mathews
—Slow Horses by Mick Herron
—Another Sun by Timothy Williams
—The Last Kashmiri Rose by Barbara Cleverly
—The Coroner's Lunch by Colin Cotterill
—The Dragon Man by Garry Disher
—Crashed by Timothy Hallinan
—Billy Boyle by James R. Benn
—Detective Inspector Huss by Helene Tursten
—Outsider in Amsterdam by Janwillem Van de Wetering
—Zoo Station by David Downing
—Siren of the Waters by Michael Genelin
—Death of an Englishman by Magdalen Nabb
—Random Violence by Jassy Mackenzie
—Blood of the Wicked by Leighton Gage
—The Last Detective by Peter Lovesey
—Jade Lady Burning by Martin Limón
—Murder in the Marais by Cara Black
—Eye for an Eye by Frank Muir
—Converging Parallels by Timothy Williams
—The Boy in the Suitcase by Lene Kaaberbøl and Agnete Friis
—Rock, Paper, Tiger by Lisa Brackmann
—Wobble to Death by Peter Lovesey
—Chinatown Beat by Henry Chang
—The Bishop's Wife by Mette Ivie Harrison
—The Woman Who Married a Bear by John Straley
—The Collaborator of Bethlehem by Matt Rees
—The Ghosts of Belfast by Stuart Neville
To read any of these ebooks for $4.99, visit the Passport to Crime page and choose the books you want to read.
Then, during the checkout process, use the coupon code: #StartaSeries
That's it!
Happy reading, everyone. And happy 2019!