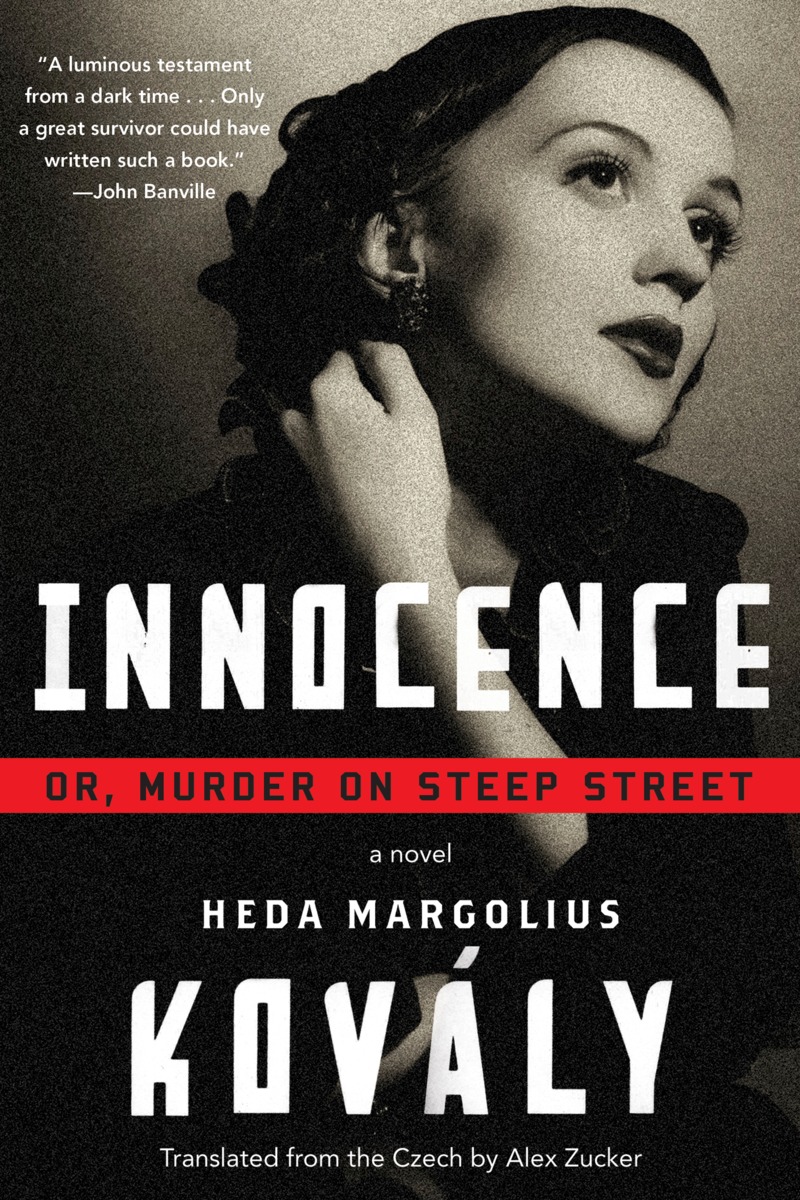 Published by the author while living in exile from her native Czechoslovakia, Innocence: Or, Murder on Steep Street (Soho Crime | June, 2015), fascinates as much for its path to publication as it does for its riveting story.
Heda Margolius Kovály is best known for her landmark memoir, Under a Cruel Star, which documents both her struggle to survive first Auschwitz and then Stalinist Czechoslovakia. Her husband, who had survived the horrors of Dachau, had been a part of the Jewish intelligentsia that established communism in Czechoslovakia, only to later be detained and murdered after the now infamous Slanksy show trial put on by the government he had helped create. Branded the wife of a "political traitor," Heda eked out a living with her son under the Soviet regime. That atmosphere of oppression is what Heda wanted to take aim at in what would be her only novel.
During this time of political exile Kovály worked as much as a translator as memoirist, rendering into Czech the works of Philip Roth, Muriel Spark, and Raymond Chandler, among others. But it was the latter's work that inspired Heda to turn her pen to fiction. Inspired by Chandler, Kovály knit her own terrifying experiences in early 1950s Communist Prague—her husband's imprisonment and wrongful execution, her own persecution at his disgrace—into a gorgeous psychological thriller-cum-detective novel.
Set in and around a cinema where a murder was recently committed, Innocence follows the unfolding of the investigation while telling the stories of the women who work there as ushers, each of whom is forced to support herself in difficult circumstances. As the novel brings this group alive, it tells their various life stories that have brought them to this job, the secrets they share with one another, and the secrets they keep. When the detective trying to solve the first murder is found slain by the cinema, all of their secrets come into the light.
Innocence was published in 1985 by a Czech-language German expatriate press while Heda was living in exile in London and Boston. It was a single-run limited edition book printing, never intended for sale or distribution in Czechoslovakia itself, where Kovály feared it might have adverse effects on her friends and associates because of its critical content. In fact, to further protect anyone who still knew her, Kovály published the book under a pseudonym—Helen Novakova, the same name as her autobiographically-inspired main character. Only in 2013 has the book finally been published in the Czech Republic.
It is with great pride that Soho brings to life (well, Alex Zucker's brilliant translation brings it to life) this remarkable story, which deftly combines the cultural and political observations of crime fiction with the more emotionally powerful biographical elements of an author that lived through the 20th century's most brutal times and survived to tell the tale with great humor, wit, and in the case of Innocence, cunning.