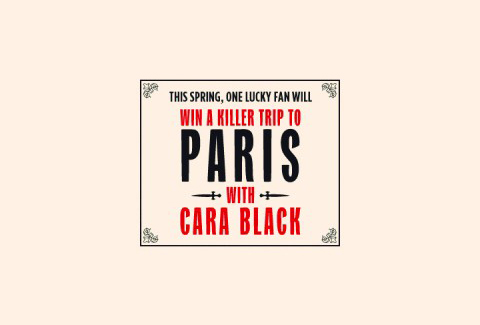 It was lucky number 13 for crime fiction author Cara Black and one lucky reader. The publication of her 13th novel, MURDER BELOW MONTPARNASSE, saw Black debut on the New York Times Bestseller list for the first time in her career—and one fan is headed to Paris with the author—this fall as the official web winner of the "Win a Killer Trip to Paris with Cara Black" sweepstakes.
Laura Bleau from Newtown, Connecticut was selected as the official winner of the Soho Press "Win a Killer Trip to Paris with Cara Black" sweepstakes on May 15th. Bleau is a graphic designer and portrait painter by trade. Ms. Bleau is also a huge Cara Black fan.  "I've read every Cara Black book." Bleau said. "I can't believe I won. I've never won a contest before."
Over 2,000 entries were received during the two-month contest period and one winner was selected via a random drawing digitally hosted and stored by www.random.org. Soho Press, the publishers of Cara Black's Parisian series starring private investigator Aimée Leduc, partnered with the San Francisco based Tea Garden Travel to offer this remarkable sweepstakes.
"The contest was wonderful to be a part of," said Cara Black. "Soho Press and Tea Garden [Travel] really came up with something fun for readers to do, and of course there are all the libraries and bookstores which played host to me on tour, or hosted contest posters and entry forms. I couldn't be more thankful. It's going to be a great trip this fall."
The "Killer Trip" itself will take place October 15th through the 22nd, and is the brainchild of Tea Garden Travel's Michele Abrate, who constructed the designer tour around locations and destinations found in the Leduc series.
When asked what she was looking most forward to on the trip, Ms. Bleau said, "Meeting Cara. And of course the art."
One of the stops on the trip will be a scavenger hunt held in the Louvre itself, which will no doubt be a highlight for all the travelers, but especially for Ms. Bleau.