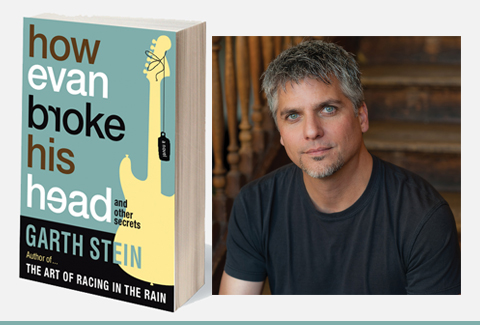 It's the ten year anniversary of the release of Garth Stein's wonderful novel, How Evan Broke his Head, and Soho Press is excited to reissue the book on March 18th, complete with a handsome new cover, as well as an interview between Stein and his former Soho editor, Bryan Devendorf.
Devendorf plays drums in the indie rock band The National, a handy gig for an editor when working on a book about a fledgling guitarist in his early thirties facing personal demons from his past.
Stein, whose other books include the New York Times bestseller The Art of Racing in the Rain, and Raven Stole the Moon, recently sat down with Devendorf at Hugo House in Seattle for a video interview. Three clips are below. We'll be posting more clips leading up to the release of How Evan Broke His Head, and the entire video interview will be revealed sometime next month. Stay tuned.
Video 1: On Controlled Explosions
Video 2: On Rituals
Video 3: On Falling in Love