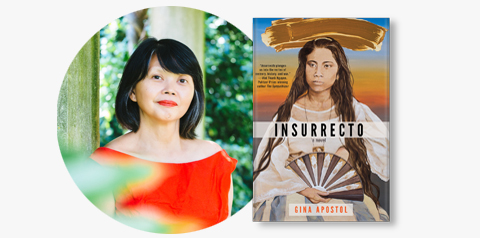 Gina Apostol's Insurrecto, one of Publishers Weekly's "Best Books of 2018," is a brilliant, tour de force that was featured on NPR's "Weekend Edition" with Scott Simon this past Saturday.
From the interview:
"Gina Apostol's new novel, Insurrecto, is about two women on a trip to make a film in the Philippines. Except they wind up seeing different films in the same characters.
Chiara Brasi is an American who wants to make a movie about an event during the Philippine-American War. She hires an interpreter named Magsalin, who takes her to the island of Samar — and specifically to the town of Balangiga, where Philippine rebels were massacred in a retaliation for an attack on U.S. forces in 1901. Magsalin reads Chiara's script and writes a different story.
Apostol uses an array of literary and cinematic techniques — memoirs, jump-cuts, close-ups and reveries — to set a story in the present-day Philippines of Rodrigo Duterte.
"I'm very interested in that concept of multiple ways of looking at things," she says in an interview. "You know, this notion that in all of us there are multiple identities, you know, and we don't recognize the simultaneity of them. I'm a mom, I'm a daughter, I'm a teacher, I'm a writer, I'm a Filipino, I'm a American. And I really like this kind of seeing things from various points of view."
Listen to the full interview here:
You can read more about Insurrecto, and purchase it from one of your favorite booksellers, here.