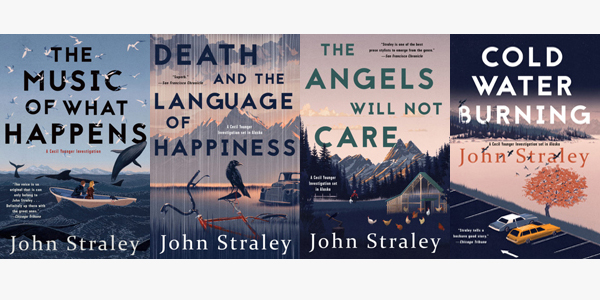 When the temperatures heat up this month, cool off with Soho Crime author John Straley's Cecil Younger Investigations. The books take place in Alaska, and offer the ideal antidote to the summer's rising mercury.
Cecil Younger and company have been charming and enticing readers for years. With a wry sense of humor, exotic details and stirring plots, this series is a nuanced introduction to small town Alaskan life.
Straley has not one, not two, not three, but four paperbacks coming out this month. Have a look below and see which titles pique your interest.
"The voice is so original that is can only belong to John Straley … Definitely up there with the great ones." –Chicago Tribune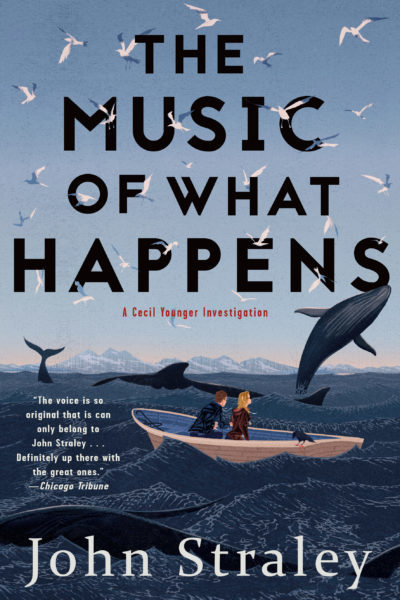 In the third entry to the series, Alaska P.I. Cecil Younger is fresh out of rehab with a head wound, a child custody case from hell, and the clients to match.
Confrontational and obsessed, Priscilla DeAngelo is sure her ex is conspiring with a state senator to wrest her son from her, and thus, she hires Cecil Younger to investigate. This is the first time Younger has to deal with lawyers in flashy suits and overused paper shredders. When she storms off to Juneau for a showdown, Younger's custody case swiftly turns into a murder. Younger is fired from the defense team, but he can't stop thinking about the case, and keeps on with the investigation alone. He's not sure what keeps him involved. Is it Priscilla's sister (his lost love)? His regard for truth as a rare commodity? Or the head injury Priscilla's ex gave him?
But there's one thing he knows: he won't let go until it's solved, even if it kills him.
Amazon | Barnes and Noble | IndieBound | Soho Press
***
"Straley flawlessly expresses both his and our own underlying anxiety about the world around us in this superb series." –San Francisco Chronicle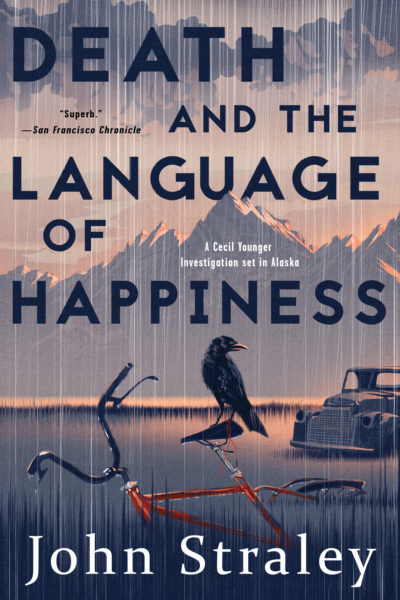 In the Alaskan town of Sitka, the living is tough and the crimes are aplenty . . . and plenty personal.
When 97-year-old William Flynn is accused of killing his neighbor, Angela Ramirez, he turns to private investigator Cecil Younger with an odd—and, frankly, rather incriminating—request. He wants Cecil to track down a man he believes witnessed Ramirez's murder: her estranged husband, Simon Delaney. The only problem? Flynn doesn't just want Cecil to find Delaney. He wants him to kill the man. Cecil knows that kind of thing would be bad for business, but he takes the job, hoping he can both convince Flynn to call off the manhunt and discover what really happened to his neighbor. But the old man isn't making the job easy. He keeps confusing two different crimes: Angela Ramirez's recent murder and an 80-year-old tragedy in which four American Legionnaires were killed during an Armistice Day Parade.
Cecil struggles to sort through the old man's befuddled memories and dives into the search for Delaney, which takes him on a journey through Alaska history and all over the Pacific Northwest, from the Aleutian Islands to Centralia, Washington.
Amazon | Barnes and Noble | IndieBound | Soho Press
***
"Like the Coen brothers on literary speed, John Straley is among the very best stylists of his generation." –Ken Bruen
Trapped on an Alaskan cruise line, PI Cecil Younger must expose a killer—and fast—or he may just find himself sleeping with the fishes.
Cecil Younger never thought it would come to this: running surveillance on a chicken coop that's being raided by a fowl thief. But things have not exactly been breaking right lately for the Alaskan PI. The logical thing to do? Take a vacation, of course.
Well, it's not exactly a vacation. Cecil has been paid to investigate a doctor aboard a cruise ship up the Alaskan coast following some complaints from his patients . . . that is, the patients who are still alive to complain. Worst of all, someone is leaving evidence pointing an accusing finger at Cecil. By the time the S.S. Westward makes landfall, Cecil will be wishing he was back guarding chickens.
Amazon | Barnes and Noble | IndieBound | Soho Press
***
"Vivid seamanship, myriad plot skews, intriguing Alaska, and new dad Cecil, the poster boy for angst-riddled, flawed decisions, make this a standout." –Kirkus Reviews, Starred Review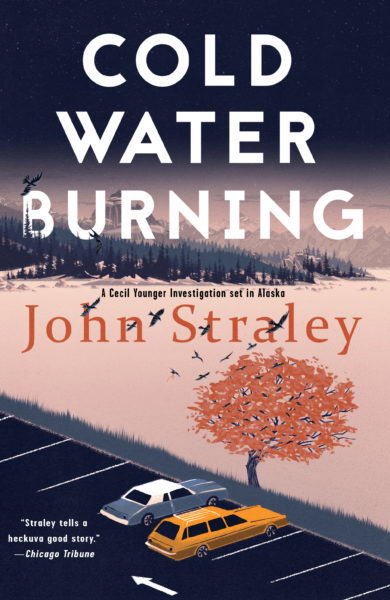 After years on the job as a private investigator in Sitka, Alaska, Cecil Younger doesn't claim to have learned much about humanity as a whole, but he does know this: truth is a slippery thing.
When the wife of a former client comes to Cecil to ask for help finding her husband, Cecil agrees. After all, helping get Richard exonerated during a tragic murder trial three years ago had been one of the biggest successes of Cecil's career. But why, if Richard's name had been cleared, was he M.I.A. now? Patricia, Richard's steadfast wife, has one guess: someone is after Richard. It's no secret that Richard has a long list of enemies, not least of which are the family members of the dead. But things soon get complicated when Patricia is killed, sending Cecil on a desperate trip to sea to chase down the twisted truth.