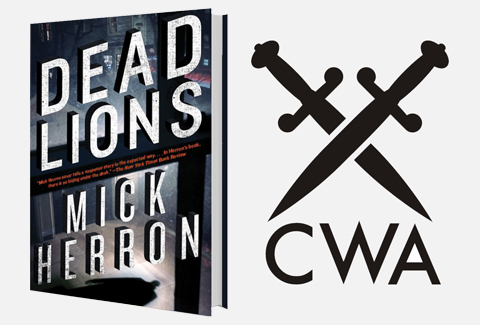 At London's Grosvenor House this evening, spy thriller writer Mick Herron received the 2013 CWA Goldsboro Gold Dagger for Best Crime Novel of the Year. His prizewinning novel, DEAD LIONS, is a wryly humorous tale of disgraced MI5 spies who become embroiled in the shady world of resurrected Cold War spooks.
DEAD LIONS was up against stiff competition: The other candidates shortlisted for the Gold Dagger were Belinda Bauer's RUBBERNECKER, Lauren Beukes's THE SHINING GIRLS and Becky Masterman's RAGE AGAINST THE DYING.
Herron was shortlisted for the CWA Steel Dagger in 2010 with SLOW HORSES, the prequel to DEAD LIONS, but this is first time bringing home a Dagger.
In reaction to the announcement, Herron commented, "My shelves are crammed with Gold Dagger-winning novels of the past—The Mermaids Singing, Black and Blue, Bones and Silence. I can't quite believe I get to put my own book next to them."
Congratulations, Mick! And congratulations as well to Stuart Neville, who made this year's shortlist for the Ian Fleming Steel Dagger with his Nazi thriller RATLINES. We're so proud of you both!