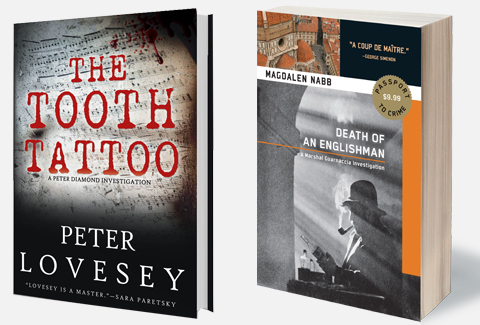 THE TOOTH TATTOO, the 13th book in Peter Lovesey's celebrated Peter Diamond Investigations series, is available for $1.99 in ebook.
Magdalen Naab's DEATH OF AN ENGLISHMAN, the first book in the Marshal Guarnaccia series set in Florence, is also available for $1.99 in ebook.
Besides these amazing deals, Lovesey and Nabb have something else in common, both have been praised by New York Times Crime columnist Marilyn Stasio.
Of Nabb, Stasio wrote:
"It takes a writer as good as Magdalen Nabb to remind us how subtle the art of the mystery can be."
Her critique of Peter Lovesey's series is no less laudatory:
"These erudite and wondrously witty books are unlike any police procedural you've ever read. THE TOOTH TATTOO is a case in point …. The murder investigation provides the structural framework for a group portrait of the eccentric members of this captivating ensemble and the music they play with such rapturous devotion."
In DEATH OF AN ENGLISHMAN, it is just before Christmas and the marshal wants to go South to spend the holiday with his wife and family, but first he must recover from the flu (which has left the Florentine caribinieri short-handed) and also solve a murder. A seemingly respectable retired Englishman, living in a flat on the Via Maggio near the Santa Trinita bridge, was shot in the back during the night. He was well-connected and Scotland Yard has dispatched two officers to "assist" the Italians in solving the crime. But it is the marshal, a quiet observer, not an intellectual, who manages to figure out what happened, and why.
And in Lovesey's THE TOOTH TATTOO, Peter Diamond, head of the Criminal Investigation Division in scenic Bath, England is investigating the murder of a young woman whose body has been found in the canal, the only clue to her identity a tattoo of a music note on one of her teeth. For Diamond, who wouldn't know a Stradivarius from a French horn, the investigation is his most demanding ever.
Two classic crime thrillers, one set in Florence, the other in Bath, both highlights of Soho Crime, and each available for $1.99.
Get one or get them both but hurry,this sales ends when October does. Or you can browse all the books in our catalog by visiting the Soho store.