Exciting paperbacks are due out from each of our imprints this month.
Whether you're craving a tale of historical espionage, a young person's coming of age story set in Japan, or a dog lover's speculative YA masterpiece, it's all here for you this week from Soho.
Read on for more details.
Soho Teen
A Children's Book Council 'Hot Off the Press' Pick for April
YALSA's 2019 Quick Picks for Reluctant Readers
Winner of Creative Loafing's 'Best of the Bay' Award for Best Local author

"This book is weird, and I mean that in the most complimentary way possible."
—Eric Smith, Paste Magazine
"Only a true dog lover could have written this marvelous book. By setting the story in a dystopian world where real dogs are no more, its artful storytelling makes the best possible case for treating dogs well, as that is what they so richly deserve for giving us unconditional love like no other creature on this earth. This book will make you smile and give your real-life canine extra hugs, and really, what could be better than that?"
—W. Bruce Cameron, #1 New York Times bestselling author of A Dog's Purpose
"Our most anticipated indie YA."
—Barnes & Noble Teen Blog
Fusing the heart of Julie of the Wolves with the imagination of Little Brother andShip Breaker, this speculative YA is a must-read for any dog lover.
When a global genetic experiment goes awry and canines stop wagging their tails, mass hysteria ensues and the species is systematically euthanized. But soon, Mechanical Tail comes to the rescue. The company creates replacements for "man's best friend" and studies them on Dog Island, where 17-year-old Nano Miller was born and raised. Nano's life has become a cycle of annual heartbreak. Every spring, she is given the latest robot dog model to test, only to have it torn from her arms a year later. But one day she makes a discovery that upends everything she's taken for granted: a living puppy that miraculously wags its tail. And there is no way she's letting this dog go.
Amazon | Barnes and Noble | Apple | IndieBound | Soho Press
Soho Press
A Bustle Most Anticipated Book of 2018
amNY, "Must Read Books in 2018"
The Huffington Post, "60 Books We Can't Wait to Read in 2018"
BookBub, "25 Debut Novels We Can't Wait to Read in 2018"
iBooks, "10 Debut Novels You Must Read"
A Library Journal Best Audiobook of 2018

"​A murder mystery and a family drama in one, this book is as beautiful as it is understated. The author presents us with a fascinatingly structured look into Japanese society and a depiction of mourning and grief that is universally recognizable.​"​ 
​—San Francisco Chronicle ​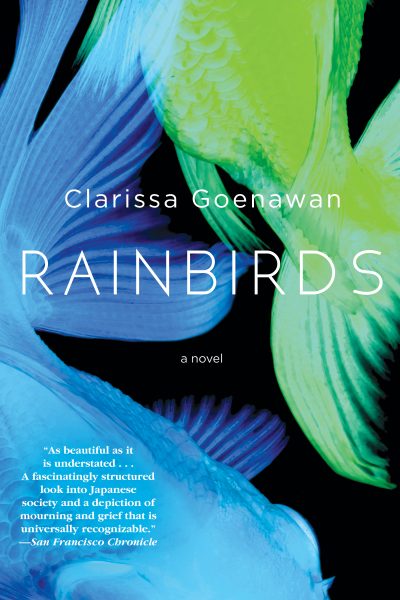 Set in an imagined town outside Tokyo, Clarissa Goenawan's dark, spellbinding literary debut follows a young man's path to self-discovery in the wake of his sister's murder.
 
Ren Ishida has nearly completed his graduate degree at Keio University when he receives news of his sister's violent death. Keiko was stabbed one rainy night on her way home, and there are no leads. Ren heads to Akakawa to conclude his sister's affairs, failing to understand why she chose to turn her back on the family and Tokyo for this desolate place years ago.
But then Ren is offered Keiko's newly vacant teaching position at a prestigious local cram school and her bizarre former arrangement of free lodging at a wealthy politician's mansion in exchange for reading to the man's ailing wife. He accepts both, abandoning Tokyo and his crumbling relationship there in order to better understand his sister's life and what took place the night of her death.
As Ren comes to know the eccentric local figures, from the enigmatic politician who's boarding him to his fellow teachers and a rebellious, captivating young female student, he delves into his shared childhood with Keiko and what followed. Haunted in his dreams by a young girl who is desperately trying to tell him something, Ren realizes that Keiko Ishida kept many secrets, even from him.
Amazon | Barnes and Noble | Apple | IndieBound | Soho Press
Soho Crime
A LitHub Most Anticipated Crime, Mystery, and Thriller Title of 2018
A CrimeReads Best Espionage Novel of 2018 
"Downing is a meticulous researcher of the period . . . A joy of reading both Downing and Kerr is being transported back to a place and time. I certainly wouldn't want to ride in a Russian tank today, but in a fantasy I might."
—Margaret Cannon, The Globe and Mail 
"Intelligent and exhilarating."
—The Seattle Times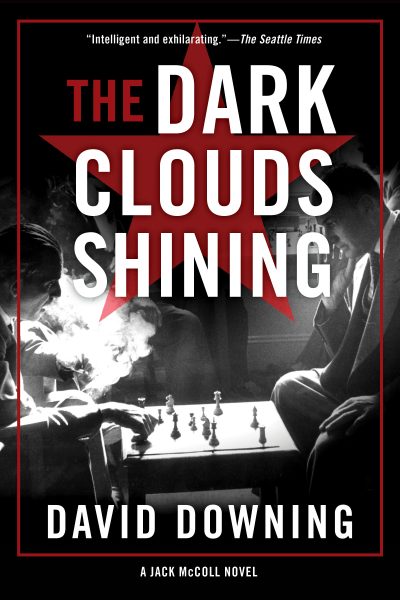 In the fourth and final installment of David Downing's spy series, Jack McColl is sent to Soviet Russia, where the civil war is coming to an end. The Bolsheviks have won but the country is in ruins. With the hopes engendered by the revolution hanging by a thread, plots and betrayals abound.
London, 1921: Ex–Secret Service spy Jack McColl is in prison serving time for assaulting a cop. McColl has been embittered by the Great War; he feels betrayed by the country that had sent so many young men to die needlessly. He can't stomach spying for the British Empire anymore. He's also heartbroken. The love of his life, radical journalist Caitlin Hanley, parted ways with him three years earlier so she could offer her services to the Communist revolution in Moscow.
Then his former Secret Service boss offers McColl the chance to escape his jail sentence if he takes a dangerous and unofficial assignment in Russia, where McColl is already a wanted man. He would be spying on other spies, sniffing out the truth about MI5 meddling in a high-profile assassination plot. The target is someone McColl cares about and respects. The MI5 agent involved is someone he loathes. With the knowledge that he may be walking into a death trap, McColl sets out for Moscow, the scene of his last heartbreak. Little does he know that his mission will throw him back into Caitlin's life—or that her husband will be one of the men he is trying to hunt down.
Amazon | Barnes and Noble | Apple | IndieBound | Soho Press
~
"Offers a vivid portrait of Palestinian life today."
—The Washington Post 
"Matt Beynon Rees has taken a complex world of culture clash and suspicion and placed upon it humanity."
—David Baldacci 
"Omar's probe of a West Bank ruled by political intrigue, religious hatred, and militia thugs lets ex-TIME Jerusalem Bureau Chief Rees make the Mideast conflict personal."
—Entertainment Weekly 
"The Collaborator of Bethlehem is the best—and the rarest—sort of mystery: exciting and compelling, but it is also a deeply moving story that will, for many readers, shed much light on the conditions in the Palestinian territories."
—David Liss, author of A Day of Atonement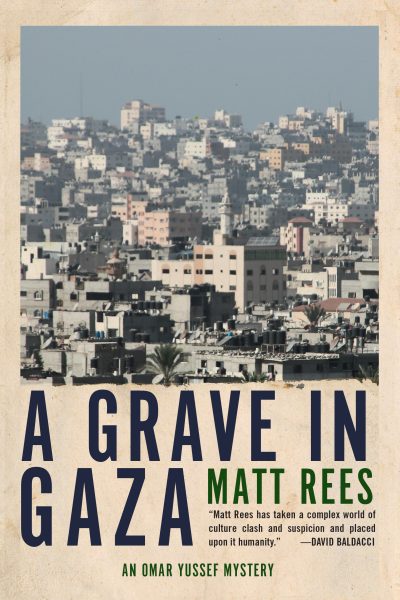 Omar Yussef must confront the dark side of Gaza—corruption, bribery, murder, and kidnapping—in his struggle to free an innocent man and honor the dead.
Omar and his boss, Magnus, travel to the Gaza Strip to inspect the UN schools in the Gaza refugee camps. The trip is just a routine visit, but upon their arrival, they meet James Cree, the UN security officer for Gaza, who tells them that a teacher at one of their schools has been imprisoned for allegedly spying. As they try to free the teacher and manage the explosive political situation, they find themselves in a dangerous confrontation with Gaza's warring government factions and the local criminal gangs.
Amazon | Barnes and Noble | Apple | IndieBound | Soho Press