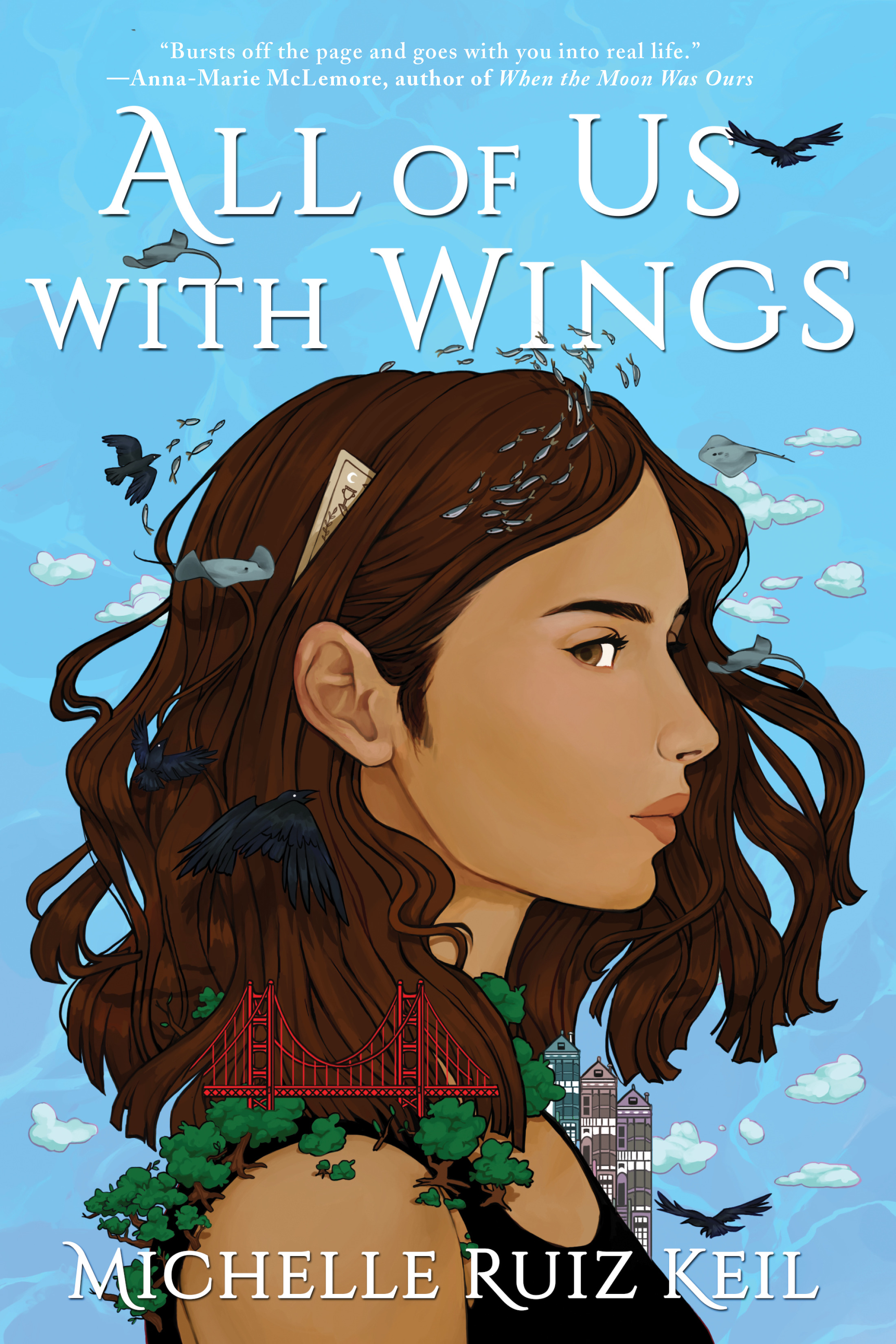 Preorder today.
Amazon | Barnes and Noble | IndieBound | Soho Press
Quickly becoming one of YA's most-buzzed about debuts, Michelle Ruiz Keil's All of Us With Wings is a knockout fantasy about love, found family, and healing, an ode to post-punk San Francisco through the eyes of a Mexican-American girl.
It tells the story of seventeen-year-old Xochi, alone in San Francisco, and running from her painful past: the mother who abandoned her, the man who betrayed her. Then one day, she meets Pallas, a precocious twelve-year-old who lives with her rockstar family in one of the city's storybook Victorians. Xochi accepts a position as Pallas's live-in governess and quickly finds her place in their household, which is relaxed and happy despite the band's larger-than-life fame.
But on the night of the Vernal Equinox, as a concert afterparty rages in the house below, Xochi and Pallas accidentally summon a pair of ancient creatures devoted to avenging the wrongs of Xochi's adolescence. She would do anything to preserve her new life, but with the creatures determined to exact vengeance on those who've hurt her, no one is safe—not the family she's chosen, nor the one she left behind.
"Michelle Ruiz Keil puts exquisite language and wild imagination to the fierce onslaught of sensation and doubt that is adolescence."
–Joanna Rose, Little Miss Strange
~

Michelle Ruiz Keil is a Latinx novelist and playwright with an eye for the enchanted and a way with animals. She teaches writing with a focus on fairytale, divination, and archetype and curates All Kinds of Fur: A Fairytale Reading Series and Salon in Portland, Oregon. She has been a fellow at the Squaw Valley Community of Writers and Lit Camp. Her published short fiction can be found on Cosmonauts Avenue, and she has a forthcoming theater piece in collaboration with Shaking the Tree Theater. All of Us With Wings is her first novel.
An excerpt is below.
Enjoy!
All of Us With Wings
Low, low, deep and low, the sibling pair sleeps
Hands clasped, hair entwined
They share a dream of springtime
They dream music
They dream of a girl
Of tears
And heat and honey
The mudpot stirs
Dreaming, they drift
Honey, heat, tears, springtime
Earth exhales her fumarole breath
How long have they slept in their aquifer nest?
Lithium bubbles, lighter than air
Eyes open, obsidian bright
Birdsong?
Thunder?
Together, they feel
Together, they listen
Together, hands clasped, they begin to rise
Chapter One
All Tomorrow's Parties
Pallas sat sidesaddle on the kitchen counter, velvet ankle boots resting daintily in the deep porcelain sink. Pressing her nose against the dark kitchen window, she glared at the hulking cyclops creeping steadily toward Eris Gardens, its single working headlight illuminating the carriage house and steep gravel drive.
"No one's supposed to park back there," she said. "Can't they read?"
"Maybe they're too tired." Xochi yawned. "I mean, who starts a party at midnight?"
"It's an afterparty." Pallas swirled a perfect cursive P in the steam her breath had made on the window. "Midnight counts as after."
"Midnight counts as bedtime." Xochi downed the rest of her coffee.
"Maybe for you."
Pallas had never had a bedtime herself, not even as a baby. Certainly not now that she was nearly thirteen.
She giggled. "You claim you're not governess material, but listen to you— so prim and disapproving."
Xochi rolled her eyes and reached over Pallas to pull back the lace curtain. Exhaust poured like fog from the old car's tailpipe. "Who drives a hearse?"
Pallas sighed. She had a pretty good idea of who the boxy eyesore belonged to. "Some people get one song on the radio or open for Lady Frieda a few times and suddenly they're above parking on the street like everyone else."
She held her breath as the rusty behemoth lurched past the collection of vintage motorcycles parked behind the kitchen and shuddered to a stop. Four doors opened and five girls emerged. Like a line of paper dolls cut from the same pattern, they were thin and pale, with long white muslin dresses and waist-length blonde hair. They came in single file without knocking and passed through the kitchen without a word. The last one spared a head movement toward Pallas that might have been a nod and followed the others into the hall. Continue reading on Bustle.
~
"A love letter to live music, a poem to a city in novel form, and a poignantly nuanced examination of the ways in which performance impacts life on and off stage. In equal parts realistic detail and surreal vision, All of Us with Wings bursts off the page and goes with you into real life."
–Anna-Marie McLemore, Blanca & Roja
~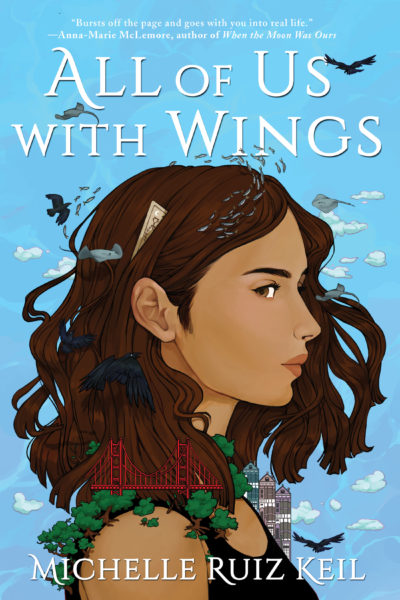 Preorder today.
Amazon | Barnes and Noble | IndieBound | Soho Press