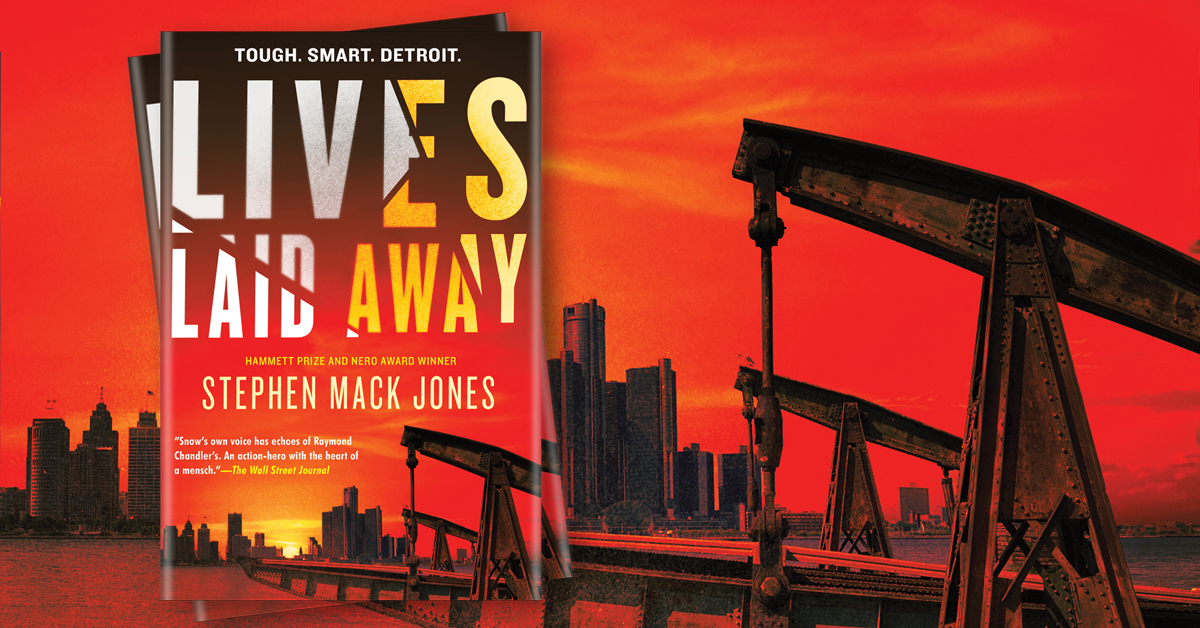 August Snow, the irresistible anti-hero star of Stephen Mack Jones' award-winning debut crime novel is back with a vengeance in Lives Laid Away, out now in stores everywhere.
This is a not-to-be-missed thrilling depiction of vigilante justice set in Snow's beloved Mexicantown neighborhood in Detroit.
To whet your appetite, we're posting Chapter One below.
Enjoy!
About the Book
When the body of an anonymous young Hispanic woman dressed as Queen Marie Antoinette is dredged from the Detroit River, the Detroit Police Department wants the case closed out fast. Wayne County Coroner Dr. Bobby Falconi gives the woman's photo to his old pal August Snow, insisting August show it around his native Mexicantown to see if anyone recognizes her. August's good friend Elena, a prominent advocate for undocumented immigrants, recognizes the woman immediately. Her story is one the authorities don't want getting around—and she's not the only young woman to have disappeared during an Immigration and Customs Enforcement (ICE) raid, only to turn up dead a few weeks later. Preyed upon by the law itself, the people of Mexicantown have no one to turn to. August Snow, ex-police detective, will not sit by and watch his neighbors suffer in silence. In a guns-blazing wild ride across Detroit, from its neo-Nazi biker hole-ups to its hip-hop recording studios, its swanky social clubs to its seedy nightclubs, August puts his own life on the line to protect the community he loves.
~
ONE
Her secret ingredient was nutmeg.
Not a lot—maybe half a teaspoon or less—but she got the same complex undercurrent effect that she would have with smoked East Indian paprika or authentic Mexican chili powder.
I was in my kitchen, slowly blending half a teaspoon of nutmeg into my homemade salsa—pureed tomatoes from Honeycomb Market, blanched and coarse-chopped tomatoes, chopped jalapenos, minced yellow bell pepper, fresh dill, a quarter lemon, squeezed, garlic, sea salt and coarse ground black pepper. I also added just a bit of chopped cilantro.
While I diced, pureed and blended ingredients, I listened to an old CD of my father's: John Lee Hooker and Santana's classic "The Healer," cranked to top volume on my stereo. Perfect music to accompany a rakishly handsome Blaxican as he made a poor imitation of his mother's salsa. Courtesy of the potent aroma of the salsa and the music, I could feel my hips, my feet moving in the rhythm of a slow rhumba bolero.
And yes, cabrón.
I dance a mean rhumba bolero, thanks to my mother's patient lessons and the decades of practice I've had at dozens of Mexican weddings, one Salvadoran/Colombian wedding anniversary and four quinceañeras.
I'd even given salsa and rhumba lessons at Camp Leatherneck and FOB Delhi Beirut in Afghanistan to guys who'd just gotten engaged to sweethearts anxiously waiting stateside. Go ahead. Ask former Marine Corporal Francis "Franco" Montoya (Seattle, Washington) or former Marine Sergeant Dwayne "Wee Man" Nixon (Memphis, Tennessee). Marine killing machines who will freely admit I'm the only guy they've ever loved dancing with.
It had been a week since I'd taken Tatina Stadmueller, my long-distance-kinda-maybe girlfriend, to Metro Airport for her flight home—back to Oslo, Norway. Back to begin her last year of Cultural Anthropology doctoral studies at the University of Oslo. I was still feeling buoyant from her visit. Like Paul blinded by righteousness and beauty.
The air in my house still carried her warm chocolate-and-pepper scent.
One thing I hadn't intended Tatina to see during her time in Detroit was a black Chevy Suburban, windows blacked-out, crawling down Markham Street at ungodly hours of the morning. Tatina had casually noted the SUV twice during her nighttime bathroom visits.
"Who are they?" she asked over breakfast one morning.
"Probably somebody coming home from a late shift somewhere."
Of course, I knew better.
This is Mexicantown. The black Chevy Suburban with blacked out windows was ICE—US Immigration and Customs Enforcement police trolling in the dark-heart hours, mapping potential "nests" and safe-houses of undocumented immigrants. Their official motto? "Protecting National Security and Upholding Public Safety."
In Mexicantown, we have a different motto for ICE: Si es marrón, enciérrelo.
"If it's brown, lock it down."
~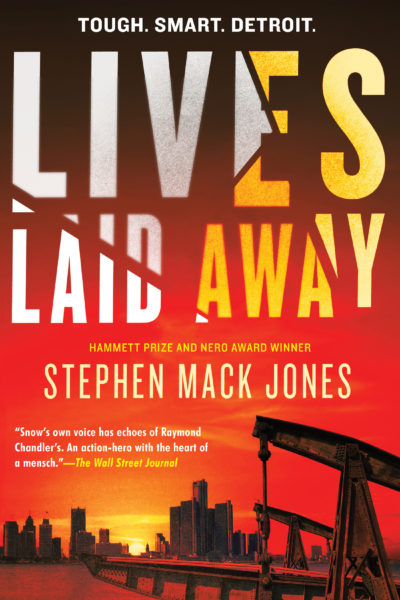 Amazon | Barnes and Noble | Apple | IndieBound | Soho Press