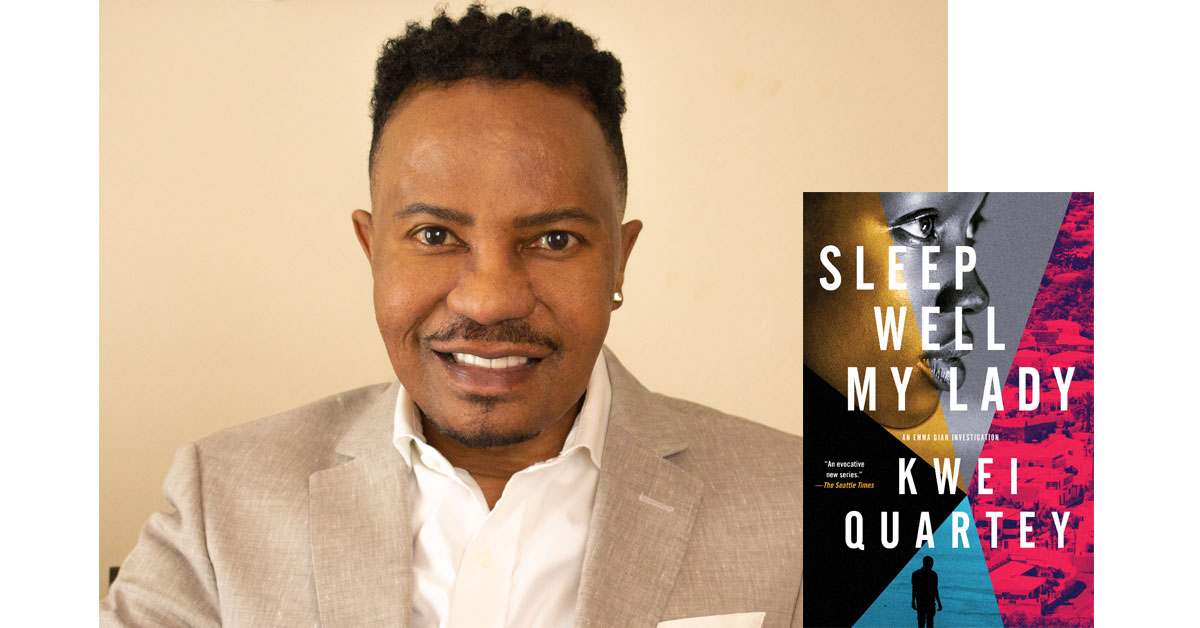 Since the publication of Kwei Quartey's critically acclaimed, Edgar Award-nominated introduction of Ghanaian investigator Emma Djan in 2019's The Missing American, readers have been asking us when Emma would be back for a new case. Guess what? WAIT. OVER. Emma is back in Sleep Well, My Lady.
We caught up with Kwei to talk mysteries, favorite sleuths, and more.
What are you reading now? Are there any upcoming book releases you're looking forward to?
I've begun work on the third Emma Djan novel, LAST SEEN IN LAPAZ, and I tend not to read novels when I'm on a new book. However, just before that, I had returned to my huge volume The Complete Sherlock Holmes—every Sherlock Holmes story ever written.
Has the pandemic changed your writing process in any way?
Not so much in substance, but in style. The continuous drumbeat of news has been a powerful distractor for me, especially the medical minutiae that appeal to me as a physician and scientist. It means the amount I get done can be diluted by the very presence of the pandemic. I'm hoping 2021 will be much quieter and less "attention-splitting."
Who's your favorite character from a mystery or thriller series?
Easily Kurt Wallander, the late Swedish author Henning Mankell's character, bolstered by the excellent TV series. He is quiet but dogged as a detective, but rather frail socially.
What do you want to see more of in crime fiction, and what do you never want to see again?
Of course, I would love to see more crime fiction from the continent of Africa ("African Noir"), particularly West Africa. We have plenty cold and gray noir from Scandinavia, let's add some heat!
What is African Noir?
African Noir is not [yet] a crime fiction category, but I define it as crime fiction that includes or embraces elements characteristic of African societies and distinct from western societies. This isn't to say that African beliefs are a monolith, but certain concepts can assume relatively more importance, e.g. beliefs in the power of God, lesser gods, fetish priests, magical powers, juju and the supernatural. All these components may have influence over murder and other crimes.
In the latest Emma Djan mystery, why did you use shifts back and forth in time?
I visualize my stories as a fluid movie, not a linear slideshow. Cinematically, I love the aha moment when your brain suddenly realizes how all the events of the past connect with the present.
What is your worst fear as a writer?
That my readers might get bored by any chapter, page, paragraph, sentence, or word in my novels.