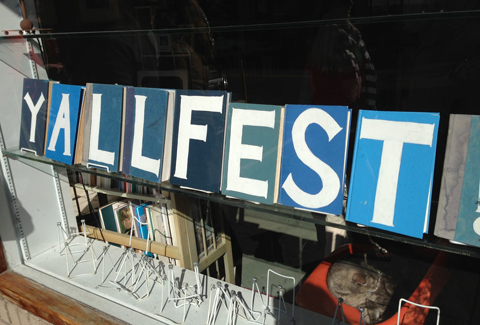 This past weekend, Soho Teen joined Blue Bicycle Books and what felt like 5 million (in a good way) denizens of the charming lands surrounding Charleston, SC, for the third annual YALL Fest! It was an action-packed Saturday filled with author talks, signings, actual Parisian macrons (really!), and the only all-YA-author band there is, Tiger Beat (watch their EPIC cover of "Purple Rain," sung by the indelible Barnabas Miller, here). I was blown away, and suggested to Jonathan Sanchez, owner of Blue Bicycle Books, that this could be a two-day festival for sure! There was so much to see and do! At which point he glazed over and walked away from me. So, so much work went into making it incredible, so thank you to Lauren and Jonathan at BBB and all of the sponsors and, of course, the authors! Because who cares without them!
Here are some visuals to really take you there:
I was sitting on a bench chatting with Marie Lu when a very polite fan came up and asked if Marie would sign her book. And then someone else noticed and wanted to be next and then… there was an impromptu signing line on the sidewalk!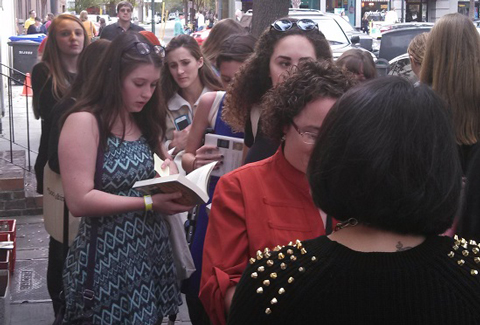 YALL Fest was packed!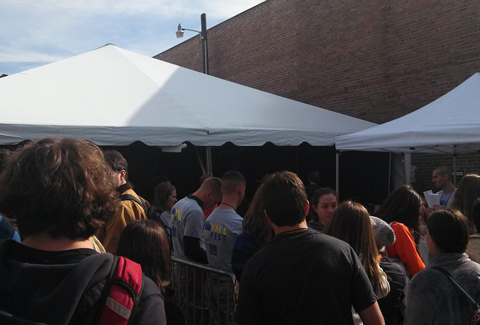 This was the Middle Grade Story Ball—all the MG authors at YALL Fest were on stage, and Matthew Cody and Pseudonymous Bosch (front, pink hat). Matthew was in the audience, getting child volunteers up on stage with the likes of Lauren Oliver (!) and Adam Gidwitz. Dreams, you guys! They come true. The authors and the volunteers made up (and acted out) an epic story that involved giant My Little Ponies, Bronies, three girls named Brian (Bryan? Unclear.), and something called Senior Mosquito Head. You can, and should, read it here.
At the end, there was a very fun "Smackdown" involving all of the YA authors (Rainbow Rowell! Tahereh Mafi—whose birthday it was! Ransom Riggs—who made Tahereh the sweetest birthday vid featuring all the YALL Fest authors! Veronica Roth–who signed Allegiant for like four hours!). It was awesome. And. There was Tiger Beat.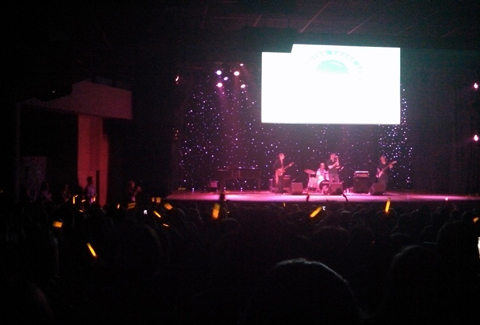 Just in case you neglected to click that link up top to watch Barnabas sing Prince? Here's a second chance. Watch Tiger Beat's whole set here!