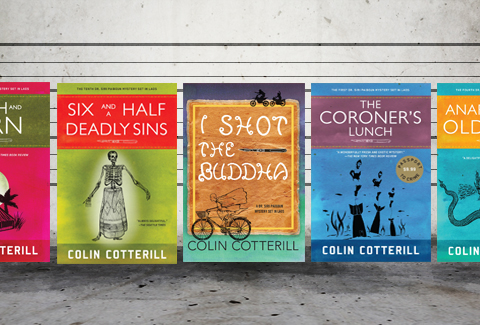 "Tragically funny and magically sublime."
—Entertainment Weekly

The Dr. Siri Paiboun Mysteries
Setting: Laos, late 1970s
Number of Crimes (Titles in Series): 11
Last Seen (Most recent title): I Shot the Buddha
Series description: When the new Communist government of Laos takes over in 1975, 70-something-year-old Dr. Siri Paiboun is pulled out of retirement to become the National Coroner. Siri, who has no forensic background, is less than thrilled about this honor. But soon he realizes his new position puts him in the unique position of identifying murder victims.
Series includes: The Coroner's Lunch, Thirty-Three Teeth, Disco for the Departed, Anarchy and Old Dogs, Curse of the Pogo Stick, The Merry Misogynist, Love Songs from a Shallow Grave, Slash and Burn, The Woman Who Wouldn't Die, Six and a Half Deadly Sins, I Shot the Buddha
Colin Cotterill lives in Chumphon, Thailand, with his wife and six deranged dogs. He has won the Dilys Award as well as a Crime Writers' Association Library Dagger.
#SohoCrime25