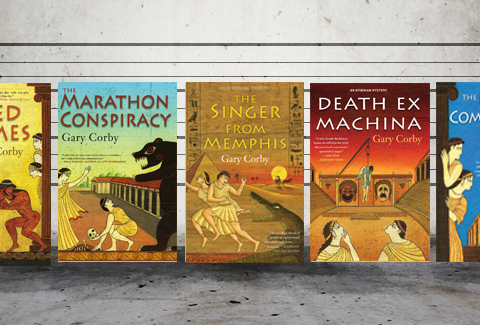 "Those who like their historicals with a touch of humor will welcome Australian author Corby's promising debut . . . Corby displays a real gift for pacing and plotting."
—Publishers Weekly, Starred Review
An Athenian Mystery
Setting: Ancient Greece
Number of Crimes (Titles in Series): 6
Last Seen (Most recent title): The Singer from Memphis
Series description: Nicolaos is the son of a sculptor in 5th century BC Athens who discovers he has a knack for solving mysteries. Aided by clever priestess Diotima, Nicolaos is hired by Pericles, the great Athenian statesman, to get to the bottom of his troubling problems. Gary Corby's delightful potboilers are historically inspired and full of real personages, from Socrates to Herodotus.
Series includes: The Pericles Commission, The Ionia Sanction, Sacred Games, The Marathon Conspiracy, Death Ex Machina, The Singer from Memphis
Gary Corby writes historical mysteries set in the world of classical Greece. He lives in Sydney, Australia, with his wife and two daughters.
#SohoCrime25