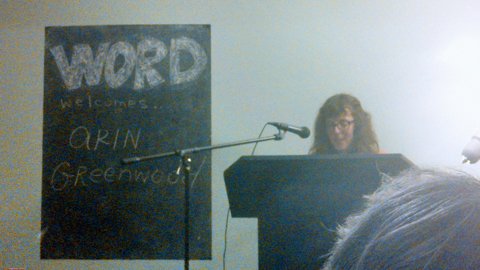 Few have as sweet and charming a disposition as Arin Greenwood, an editor at the Huffington Post and newly minted YA author. Greenwood opened her recent reading at Word Books with an excerpt from her just-released novel, Save the Enemy, but only after the audience had enjoyed its fill of wine and donuts—courtesy of the lovely staff.
In the excerpt, protagonist Zoey Trask recalls losing her virginity to her best friend's ex-boyfriend, only to be caught by both her parents in the morning. Zoey handles the mortifying situation with humor and wisdom beyond her years, which characterizes her personality throughout the novel. Similarly, with a combination of humor and tact, Greenwood managed to pull off reading an awkward sex scene in front of her parents-in-law at the event.
Save the Enemy follows Zoey as she investigates her father's disappearance shortly after her mother's murder. Zoey has to battle to find her father, protect her autistic younger brother, and determine the identity of her family's true enemy.
If you'd like to read the excerpt from the novel, go here.
Soho Teen thanks WORD Books for coordinating the event and being such hospitable hosts.
Arin Greenwood will be reading with Elizabeth Kiem Nov. 12th in Richmond, Virginia. For more information, visit the Fountain Bookstore website.