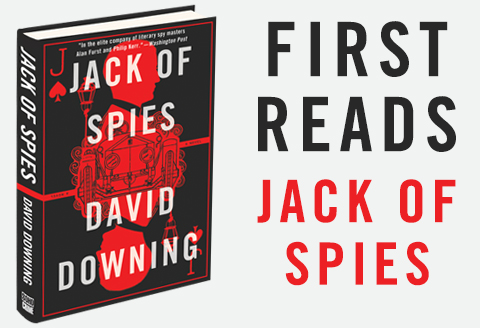 For David Downing fans, June 2013 was a dark time. The release of Masaryk Station marked  the end of Downing's epic six book Station cycle, a series that has won him comparisons to the contemporary titans of literary espionage John le Carré, Alan Furst, and Philip Kerr [Library Journal] and been hailed as "one of spydom's best series" [The Globe and Mail] and "brilliant" [The Wall Street Journal]. The story that began with Zoo Station had come to an end and our embattled hero, John Russell, was gone forever. So began the hair pulling, rending of clothes, months in bed, etc.
To readers still mourning the loss and those with the particular misfortune of having never read a David Downing novel: we bring you hope.
In May 2014, a new era of espionage begins with Jack of Spies, the first book in a new series from Downing set in 1913 on the eve of WWI, a time when organized intelligence gathering was in its nascent state and spying was a gentleman's sport. Not only does Jack showcase Downing's most ambitious, steady-handed work to date (replete with tangled loyalties and deep historical detail), but it also introduces Jack McColl, Scottish car salesman and part-time spy. A man of no small ambition (and little on his plate besides low-level data collection), Jack's jobs take him across the globe, from Shanghai to Tampico to New York and back again. But as global politics take a turn toward catastrophe, he finds himself alone at the center of the chaos.
READ AN EXCERPT OF DAVID DOWNING'S JACK OF SPIES 
Preorder from: Soho | Amazon | Barnes & Noble | IndieBound