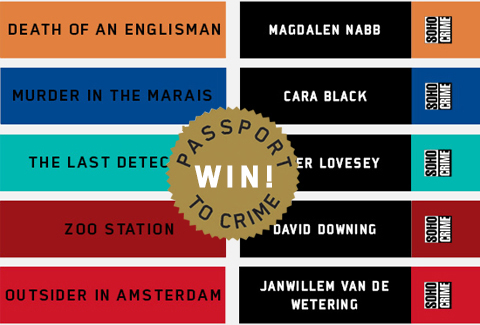 The contest is closed. We will announce the winner later today!
— For a limited time only, we're running a giveaway contest, the winner of which will receive the complete Passport to Crime series (in ebook or paperback). No shipping, no billing, just books, twelve of them, shipped directly to you! —
Because it's Thursday and we're feeling extravagant, we want to give you something. A very nice something we call the Passport to Crime series, which includes twelve books from many of our most popular crime series.
Each book is the first book in its representative series, a perfect way to explore the many heroes, villains, and international locales of Soho Crime's varied list.
The Passport to Crime includes:
—Crashed by Timothy Hallinan
—Billy Boyle by James R. Benn
—Detective Inspector Huss by Helene Tursten
—Outsider in Amsterdam by Janwillem Van de Wetering
—Zoo Station by David Downing
—Siren of the Waters by Michael Genelin
—Death of an Englishman by Magdalen Nabb
—Random Violence by Jassy Mackenzie
—Blood of the Wicked by Leighton Gage
—The Last Detective by Peter Lovesey
—Jade Lady Burning by Martin Limón
—Murder in the Marais by Cara Black
To enter, post a comment letting us know which of these books you'll read first, and be sure to use the hashtag  #passporttocrime.  Then just fill out this simple sign-up sheet.
One lucky winner will be chosen at random on Friday.
Thanks for reading, and good luck!