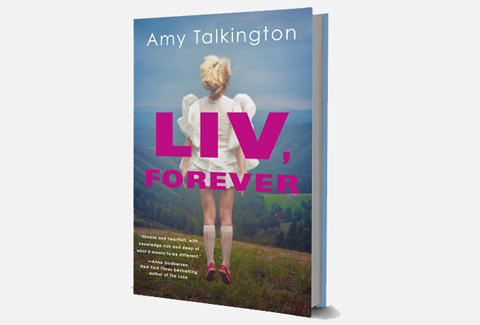 You might have already heard about Liv, Forever by Amy Talkington, Soho Teen's March 2014 title. Wildly talented authors whom I hold in very high esteem—E. Lockhart and Tonya Hurley, to name two—agree and have already offered praise. But what's coolest for me about this book is how it captures both the Amy Talkington I knew in high school and the brilliant author she's become.  If I'm making her blush, good.  Authors should blush more.

 ***
Dan Ehrenhaft: Liv, Forever is, at its heart, a ghost story—so I have to ask the obvious question: Do you believe in ghosts?
Amy Talkington: Yes! I don't necessarily imagine they're as fully formed and interactive as Liv. And I don't really think a group like the Victors could actually capture souls, but I do think a spirit might sometimes linger if he/she/it feels the need to. Like my grandmother definitely hung around long enough to make sure I was gonna have a baby. And when I finally got pregnant, she sent me a baby gift. I'm not kidding. But that's another story.
DE: Liv Bloom is such a richly drawn outsider. When we were classmates at boarding school, though, I always thought you were one of the cool kids. Did you really feel like an outsider back then, and how did that affect Liv's creation?
AT: Cool, huh? Thanks! I think I stood out at Choate with my Doc Martens, motorcycle jacket and mixed tapes of The Velvet Underground, The Cure, and Bauhaus. Like Liv, I projected an attitude, but when it came down to it I was terrified to be emotionally vulnerable. What I have most in common with Liv (aside from being obsessed with art) is the emotional armor that I wore. If Malcolm Astor had strolled into my life in high school, I wouldn't have been able to tell him I loved him either. So I wrote all that from a very honest place. It's just lucky for me that I didn't have to die to learn how to love. I'm knocking wood, by the way. Right now. Hard.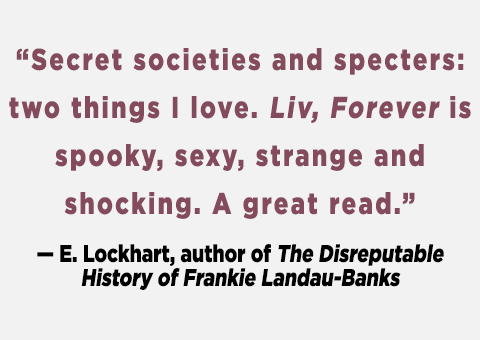 DE: You've written professionally about music, and music plays a big role in this novel. How does music influence your writing?
AT: I was a music journalist for years. It rocked. I had breakfast with Björk in London. I gave Damon Albarn (of Blur) his first tour of NYC. I had a tête-à-tête with Billy Corgan (of The Smashing Pumpkins) on a hillside in Texas. I brought half of Fishbone back to my Vassar dorm. I shared a limo with a few Strokes and hung backstage with Jane's Addiction. It was absolutely the best job ever to help get myself through grad school.
And music has always played a huge part in my writing. I've written three "jukebox" musical screenplays, and frequently I write about musicians (or the music-obsessed). But regardless of the subject matter, I always put together a collection of inspiring songs that I listen to while writing each particular project. For Liv, I revisited some of the songs I listened to at Choate (The Velvet Underground, Echo and the Bunnymen, The Cure) as well as some newer stuff (Fleet Foxes, the xx, Bright Eyes). Many of those songs ended up on Malcolm's playlist for Liv.
DE: You're an acclaimed filmmaker, and Liv is cinematic in both its structure and feel. Who would you cast as Liv if you were given the opportunity, and why?
AT: You have to believe Liv is an outsider. You also have to believe that her emotions run deep beyond her exterior. Some of the actresses I picture when I think of Liv are Chloë Grace Moretz, Elle Fanning and Hailee Steinfeld. It's not so much about the way they look, but more because of their emotional depth (and acting chops). But I'm sure some new faces will emerge as we're developing the project as well.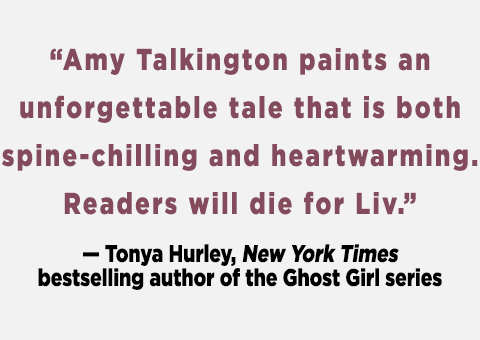 DE: Do you still paint? Is there any place we can see some recent work? Or better yet, do you still have the paintings you did as a teenager?
AT: I haven't painted lately and it's all Liv's fault! Seriously, any "free" time I had in the last year has been dedicated to Liv. But I've painted most of the rest of my life—and very seriously in my teens and 20s. You wouldn't believe how many angsty self-portraits I made during that time! I'm going to post some of my paintings on my website, and I'm also about to start up a Tumblr where I'll share more.
***