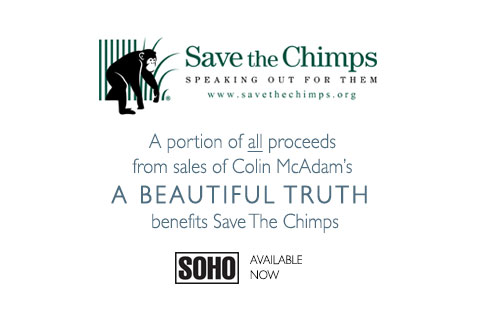 Save the Chimps, the world's largest chimpanzee sanctuary, and Soho Press have launched a promotional campaign with the goal of raising funds and spreading awareness for the Florida sanctuary.
A portion of all proceeds from sales of Colin McAdam's A Beautiful Truth (across all formats) to Save the Chimps to help care for the hundreds of chimpanzees rescued from medical research, entertainment, and domestic situations in their care.
Your bookstore can play a big role in making this effort successful. For every copy of A Beautiful Truth you sell, Save the Chimps benefits directly. Soho Press is offering in-store promotional items free to stores interested in letting their customers know about what we're doing. The promo kit includes:
– 8 x 11 1/2″ easelback poster
– Shelf talker
All you need to do to receive signage is sign up your bookstore here.
For more on A Beautiful Truth and Save The Chimps, click here.