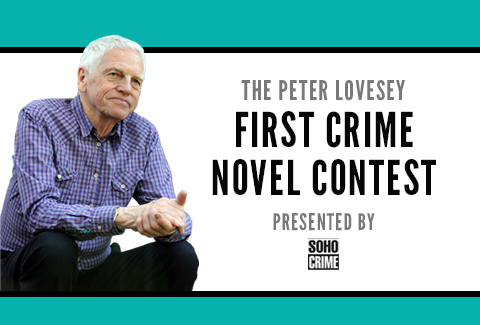 SOHO CRIME PRESENTS…
THE PETER LOVESEY FIRST CRIME NOVEL CONTEST
Are you an aspiring crime & mystery writer with your first manuscript finished—or nearly finished? Have you been waiting to find your publisher? If so, the Peter Lovesey First Crime Novel Contest may be your lucky (and well-earned) break into the business.
Fifty years ago, Peter Lovesey—who would go on to become an MWA Grand Master and a CWA Diamond Dagger Lifetime Achievement Award-winner—published his first mystery novel, Wobble to Death, after winning a first novel contest he stumbled across in an English newspaper. Over 40 novels (and a few television series) later, he has gone on to become one of the most respected mystery writers at work today.​
To celebrate Peter Lovesey's incredible career and its unusual beginnings, Soho Crime is proud to present the Peter Lovesey First Crime Novel Contest, in which one debut crime/mystery author will be awarded a publication contract with Soho Crime.
Ready to wobble your way towards becoming a published author? Submit your manuscript by 11:59 PM on April 1, 2020 for the chance to be published—and don't worry, this is no April Fools joke.
Visit the official contest site for full details, rules, and guidelines for entry.
Best of luck!