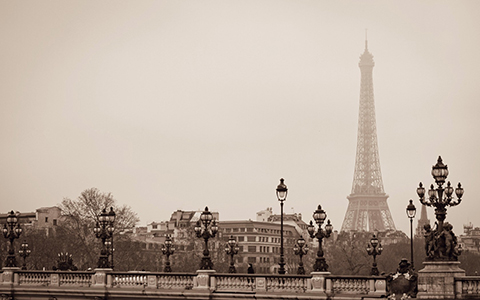 When we were putting together the materials for Cara Black's Murder Below Montparnasse earlier this year, I noticed something curious about the book's front matter.

Just who are these ghosts, I wondered. I asked Cara's editor, Juliet, about the strange dedication and found out that many of the Aimee Leduc books have been dedicated to "the ghosts" over the years.
So I reached out to Cara to learn more.
Here's what she writes:
That's so interesting that you picked up on the ghosts. Yes, it's kind of a tradition for me to acknowledge them. For me, a certain presence still inhabits Paris. It has an imprint of the past and the lives lived. I felt it the first time I went to Paris, years ago, and still do. How can I not? Standing on a deserted, narrow and cobbled 16th century street at night, I feel the history of what passed here. (On one street, there was a 16th century duel and an ambush of Royalists. The place still carries an eerie feel.) Last week I walked by the café Sans Souci near Pigalle, which has an interesting background that dates back to the 19th century. The owner, a dilettante aristocrat, bought it as a hobby, but things soon went awry. The Corsican mafia enlisted his mistress, and then he was murdered gangland style in front of his own café.
That's a different era but so much a part of what Pigalle was like. Now it's trendy with hipsters standing on the pavement smoking. Across the street is the Bus Palladium (that's in my upcoming book), which is a disco that has a resto built into part of the stage of the old 19th century theatre. When we had dinner there I could just imagine what it had been like, the gaslights, the people who'd come there long ago.
I don't know that I'd say I believe in the supernatural, but I feel a presence often in Paris, an evocation of people who walked these streets. I've gone by an address in the Marais that I've found in my research to be the site where a Jewish family was rounded up and deported. I know another spot where a Jewish clock repairer lived—I saw his name in the police blotter as rounded up in 1942. Whenever I walk by, I can't help but think of him, his name in an old ink-stained binder. I don't want him forgotten. It's a way of acknowledging the past, the people and not forgetting. I think if only these cobblestones could talk, what stories they would tell.
I went out to Boulonge Billiancourt, a suburb last week and photographed a crumbling abandoned Rothschild mansion. It was amazing, and when I read up on the history, I discovered it had been a scene of Belle Époque balls and the home of a powerful Rothschild banking family before it was occupied by first the Germans in WWII and later the US. I wrote a blog post about realizing how the past impacts us and the importance of not forgetting.
Paris may be known as the City of Light, but as you walk down those dark cobbled streets, make sure you pay attention to the shadows, too, and you might just feel a ghostly presence lingering among the living.