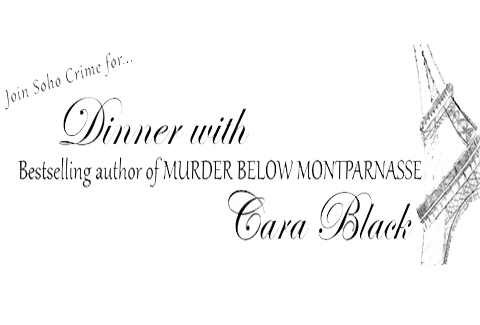 Forget St. Patrick's Day, this year you're doing something different, better.
Sunday March 17th, join Soho Press for a celebratory dinner with Cara Black, author of the newly released MURDER BELOW MONTPARNASSE. 
The event is at Cafe du Soliel in Manhattan, and includes a three-course French meal and a signed first edition copy of Murder Below Montparnasse.
The book follows one of crime fiction's very best heroines — the inimitable Aimee Leduc — as she puts together the pieces of a sinister, complicated puzzle: a possibly priceless long-lost Modigliani portrait, a grieving brother's blood vendetta, and a Soviet secret that's been buried for 80 years …
Bestselling author Alan Furst calls the Leduc series "transcendentally, seductively, irresistibly French."
Cara Black is currently on a cross-country tour, and will only be in New York for one evening, so be sure to reserve your tickets soon — seats are limited and selling quickly!
The dinner runs from 7-9 Sunday night, and tickets are $75 per person (tax and gratuity included). For more information, please email or call Juliet at Soho Press:
And don't forget: We're giving away a TRIP TO PARIS! Enter the "Paris is for Murder" contest here.